Paver Driveway Repair For Tampa Bay Home
Our team recently received a phone call from a previous customer located within the Tampa Bay Golf & Country Club. Unfortunately, while they were having work completed on their home, an automobile had leaked oil onto their driveway causing unsightly staining to the stones below.

We discussed the situation and reviewed the likelihood of removing the oil stains from the driveway. In many cases, it is often more efficient to replace the damaged stones, as oil stain removal is often not possible. Luckily, with the driveway having been previously sealed we had a shot at removing the staining. After discussing the possibility of removing the staining with our client, we scheduled a date to visit the property to attempt removal.

Upon arrival, we degreased the entire driveway, along with the damaged area to clean the driveway. Our team then re-sanded and re-sealed the paver driveway with Ure-seal to achieve remarkable results for our customer. While we were unable to remove the entire stain, we minimized the appearance of it significantly. With their driveway looking great, and the majority of the oil staining removed, our clients couldn't be happier with the service received from our dedicated paver sealing company!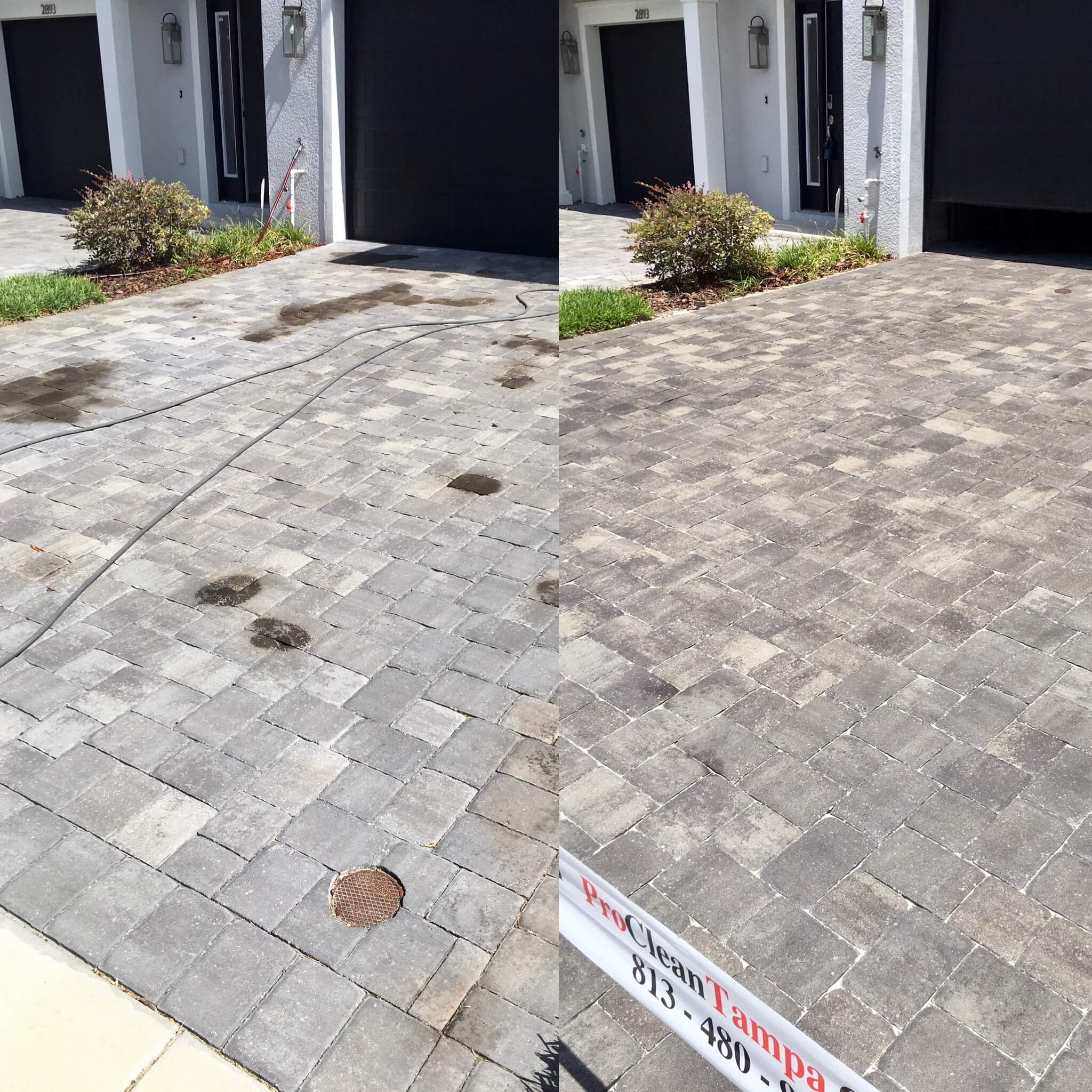 🔎 Discover Our Complete Range of Services and Resources to Transform Your Outdoor Space!
🔹 At Paver Seal Tampa, we pride ourselves on being your one-stop solution for all your outdoor needs. Whether you're looking for paver sealing, travertine sealing, power washing, or concrete sealing, we have you covered. Our team of experts is dedicated to delivering exceptional results that will leave your outdoor space looking pristine and rejuvenated.

🔹 After filling out our convenient form for a free quote, we invite you to explore our website further. Visit our homepage to learn more about our company and the comprehensive services we offer. Dive into our dedicated pages on paver sealing, travertine sealing, power washing, and concrete sealing to gain valuable insights into the process and benefits of each service.

🔹 Additionally, we have created a comprehensive guide to paver seal pricing, providing you with valuable information on the factors associated with pricing and cost. We believe in transparency and want to ensure you have all the resources you need to make informed decisions about your outdoor projects.

🔹 Experience the difference of working with a trusted and knowledgeable team. Visit our website and Blog today. Embark on a journey to transform your outdoor space into a true oasis of beauty and functionality.

🌿🏞️ Paver Seal Tampa: Your Trusted Partner for Unparalleled Outdoor Solutions! Explore Our Services and Resources Now.
We Put Our Name On Every Job
At Paver Seal Tampa we strive to exceed expectations and deliver a final product that we are proud of… And you will be too! Contact our office today to get a FREE quote for your next project