Realtor Perks
Realtor Perk Members Gain Discounts toward Your Paver Sealing Project! Get your Brick pavers or Travertine using Florida's Premium sealing product Ure-Seal H2O.

Send any customer, friend or family member our way, that asks you about how to get their pavers protected, cleaned and looking their very best with sealing them.

$100 off on your project for every Paver Sealing Referral that completes a job.

Fill out the form below and our office will be in touch with you to gather additional information about your project, then will map out the square footage and send you a quote. Quotes are good for 30 days. *Your quote will be rewritten after 30 days. Perk earnings do not expire.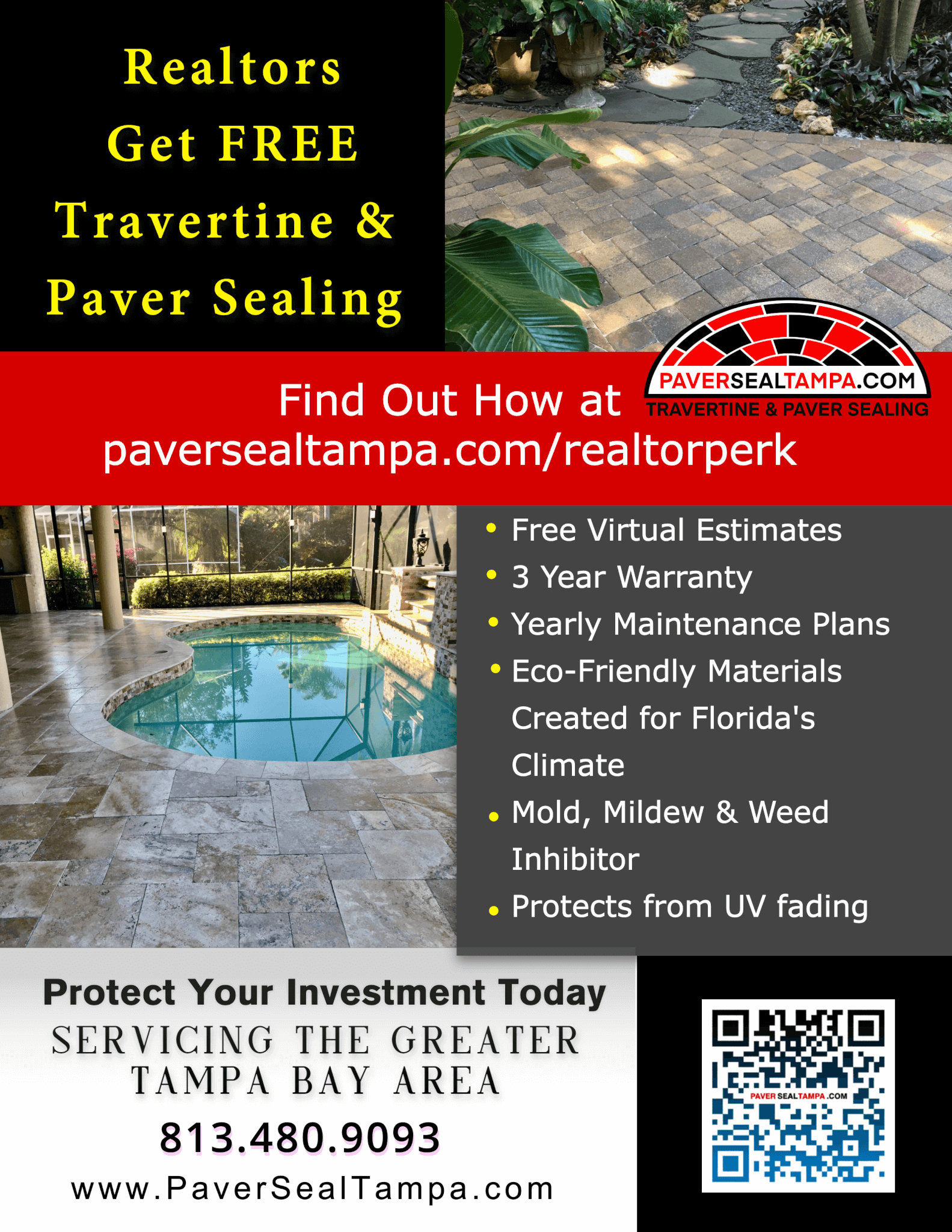 Customer Discount Code for 5% off: RP2022

Customers must also give Paver Seal Tampa the realtor or broker's name as the referral either by phone conversation, text, email or via our inquiry form. We will notify you if a customer has given us your name as a referral. Once the customer's job has been completed, we will contact you via email on your balance.

Realtors will also receive access to our discounted maintenance services. They may also add on a house wash, pool cage soft wash, fence cleaning, power washing concrete driveways, sidewalks and patios at the discounted rates our regular paver sealing customers are given. (We do not clean roofs.) Perk earnings do not apply to add on services, but can be applied to Gold Clean or Platinum Seal Paver Maintenance Services.

Discounts are not exchangeable for cash. They cannot be redeemed for any cash or credit card values. Perks given over the cost of paver sealing cannot be redeemed for cash or placed on a credit card.

* Cost of materials and labor determine our pricing. Both are currently on the rise and we cannot guarantee our prices will remain at your given quote after 30 days.

Paver Seal Tampa is not involved with real estate agents or brokers for the purpose of sales or purchases of homes or businesses. Paver Seal Tampa is basing realtor benefits on Good will and faith that all parties are honest and forthright on referrals.