Travertine Perfection For A Home Within Waterset
We were recently contacted by a homeowner within the Waterset community in Apollo Beach Florida that recently installed travertine stones at their residence. Through their extensive research online, they found our company and were set on obtaining the best product and sealing available for their new travertine. Our team educated them of the benefits of the Stone Show application and how it could check all of the boxes they were looking for to properly seal their new travertine.

Once contracted, we went to work cleaning and installing Stone Show to enhance their beautiful natural stones. This application worked great to not only protect the stone, but also bring out the deep colors within the stone. With a properly sealed pool deck, our clients can enjoy their lanai worry free while they enjoy all that Florida's beautiful weather has to offer!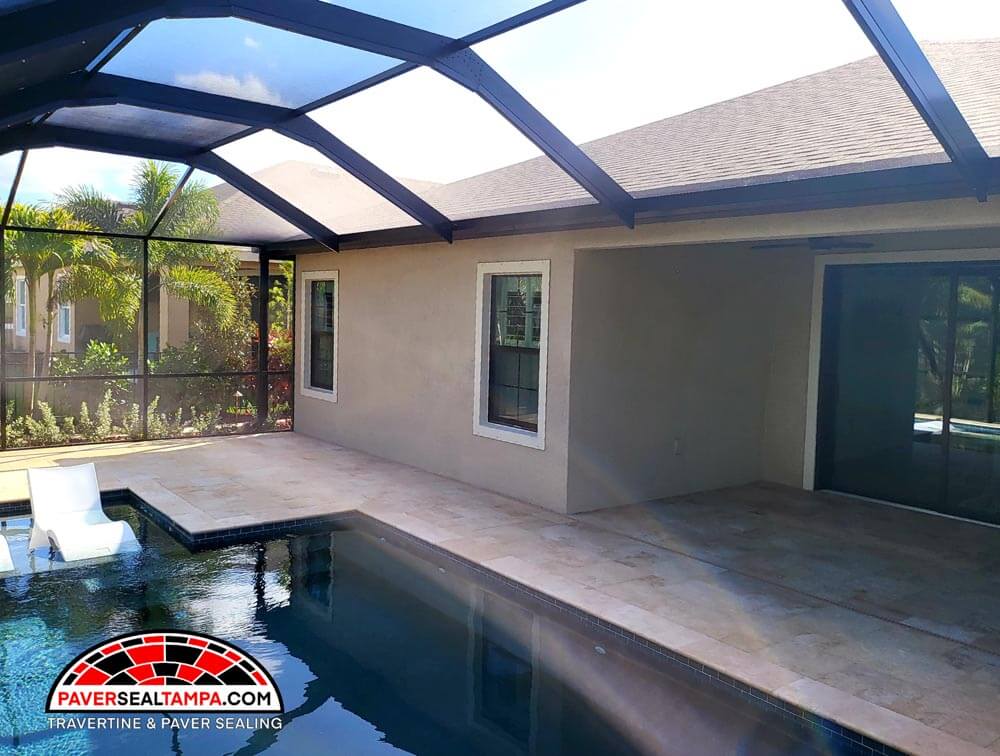 We Put Our Name On Every Job
At Paver Seal Tampa we strive to exceed expectations and deliver a final product that we are proud of… And you will be too! Contact our office today to get a FREE quote for your next project
🔎 Discover Our Complete Range of Services and Resources to Transform Your Outdoor Space!
🔹 At Paver Seal Tampa, we pride ourselves on being your one-stop solution for all your outdoor needs. Whether you're looking for paver sealing, travertine sealing, power washing, or concrete sealing, we have you covered. Our team of experts is dedicated to delivering exceptional results that will leave your outdoor space looking pristine and rejuvenated.

🔹 After filling out our convenient form for a free quote, we invite you to explore our website further. Visit our homepage to learn more about our company and the comprehensive services we offer. Dive into our dedicated pages on paver sealing, travertine sealing, power washing, and concrete sealing to gain valuable insights into the process and benefits of each service.

🔹 Additionally, we have created a comprehensive guide to paver seal pricing, providing you with valuable information on the factors associated with pricing and cost. We believe in transparency and want to ensure you have all the resources you need to make informed decisions about your outdoor projects.

🔹 Experience the difference of working with a trusted and knowledgeable team. Visit our website and Blog today. Embark on a journey to transform your outdoor space into a true oasis of beauty and functionality.

🌿🏞️ Paver Seal Tampa: Your Trusted Partner for Unparalleled Outdoor Solutions! Explore Our Services and Resources Now.
Unmatched Experience
At Paver Seal Tampa, we have years of experience in helping to restore your property's pavers. We are an honest, hard-working team who make your satisfaction our top priority. If you are looking to regain that eye-popping curb appeal for your home, get in touch with our family owned and operated company today for a complimentary estimate.