Travertine & Natural Stone Sealing
When it comes to Travertine, there are so many options on the market, it is important to explain…

The Difference Between What Can Be Used and WHAT SHOULD BE USED. With that said, most companies that specialize in sealing pavers and travertine Do Not Use the Proper Sealer on travertine.

They use what is easy to apply and what's familiar to them. In fact, they don't even know it's the wrong product.

How can they offer the best options for your natural stones when they don't even realize that the manufacturer recommends a different product and process Designed Specifically For Travertine And Other Natural Stones?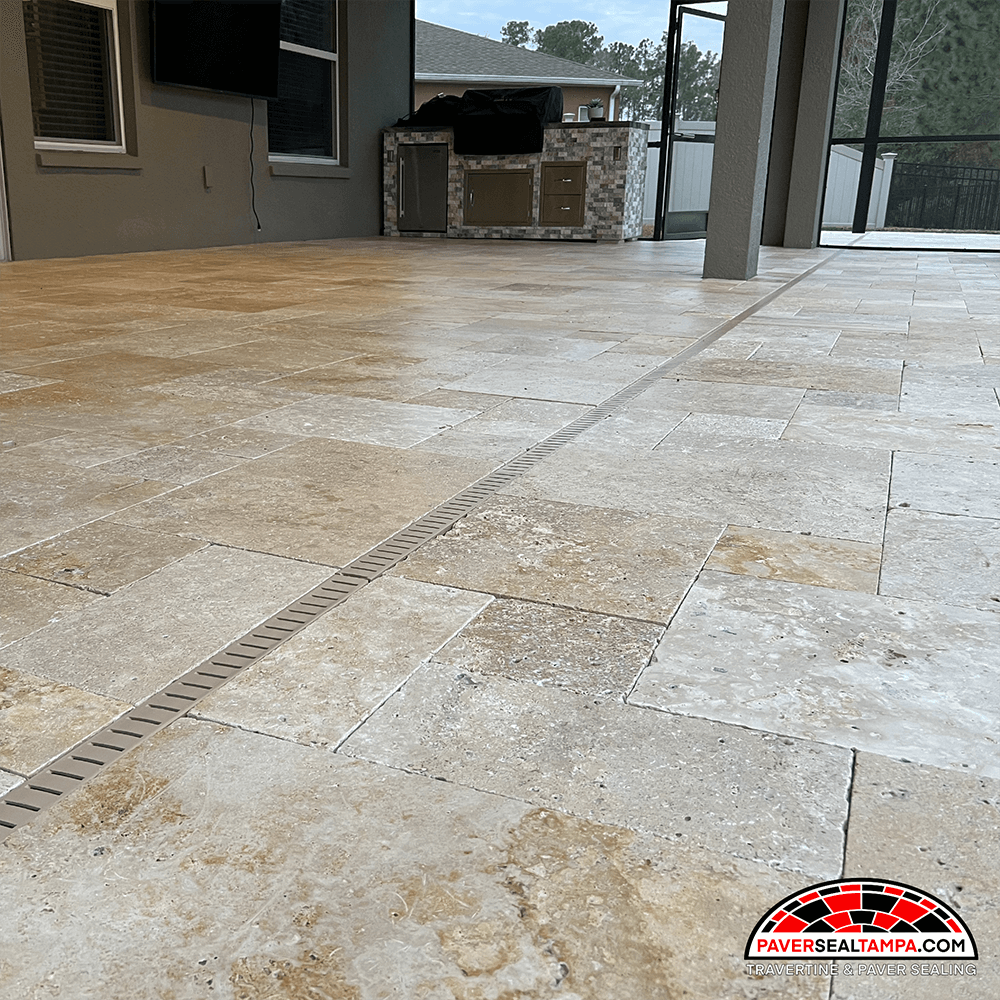 If you have a travertine or a natural stone hardscape, you need to protect your investment.

One of the best ways to enhance the beauty and protect the integrity of your hardscapes is to have them professionally sealed and routinely cleaned.

We use only the very best products available so you can be certain of the best results. Below, we will look at Innovative Concrete Technology's line of products designed here in Florida, with our subtropical climate in mind.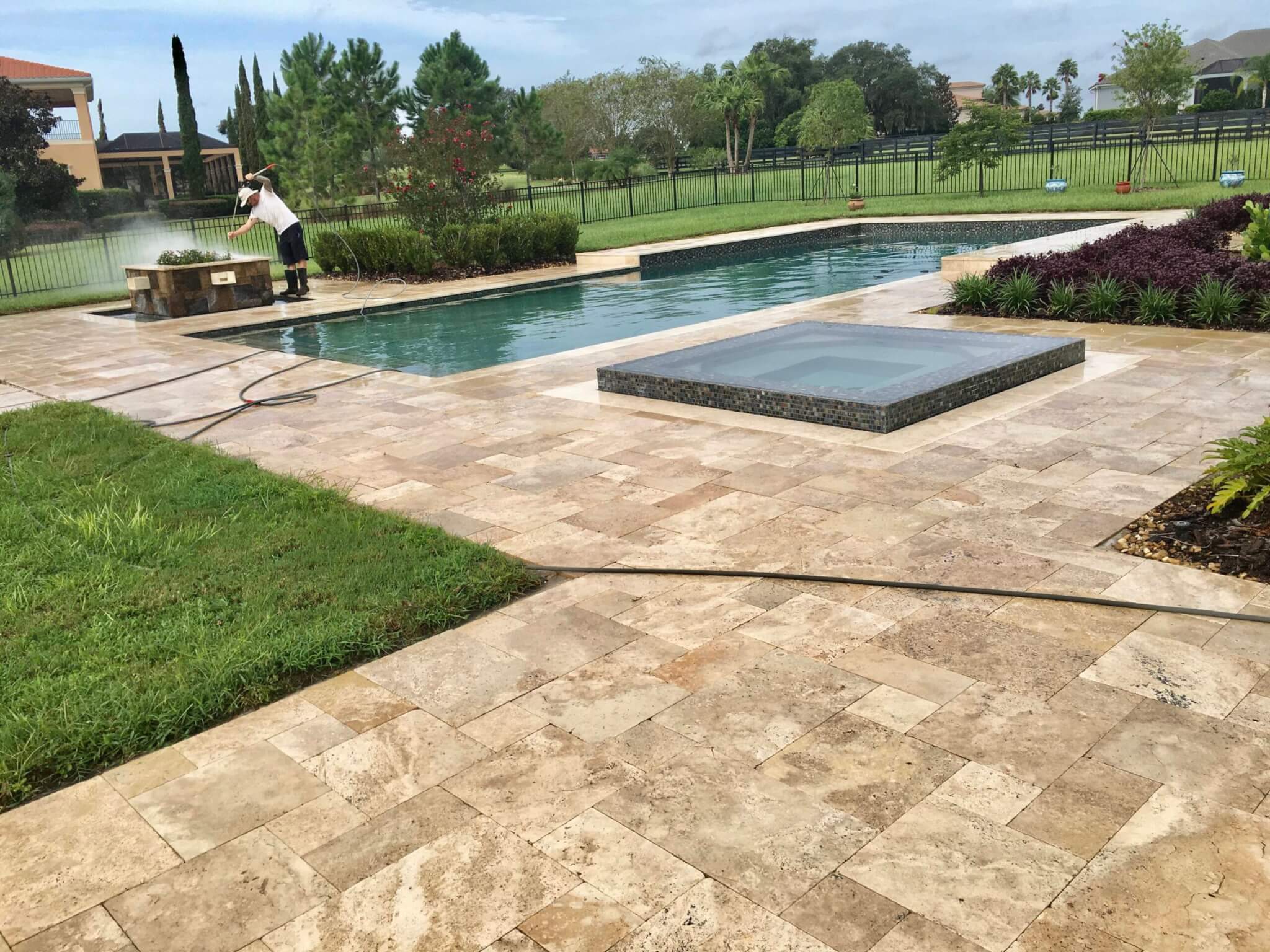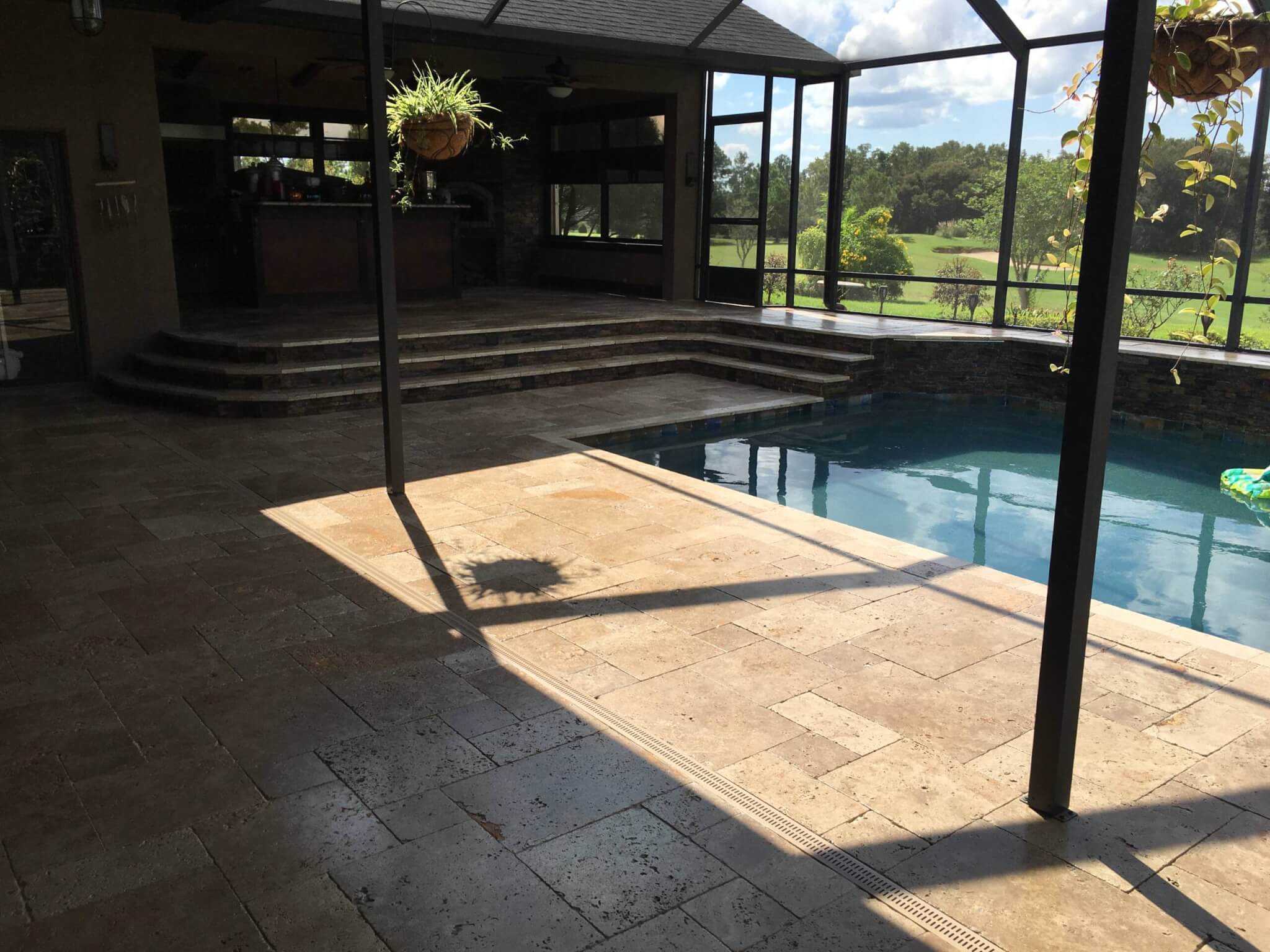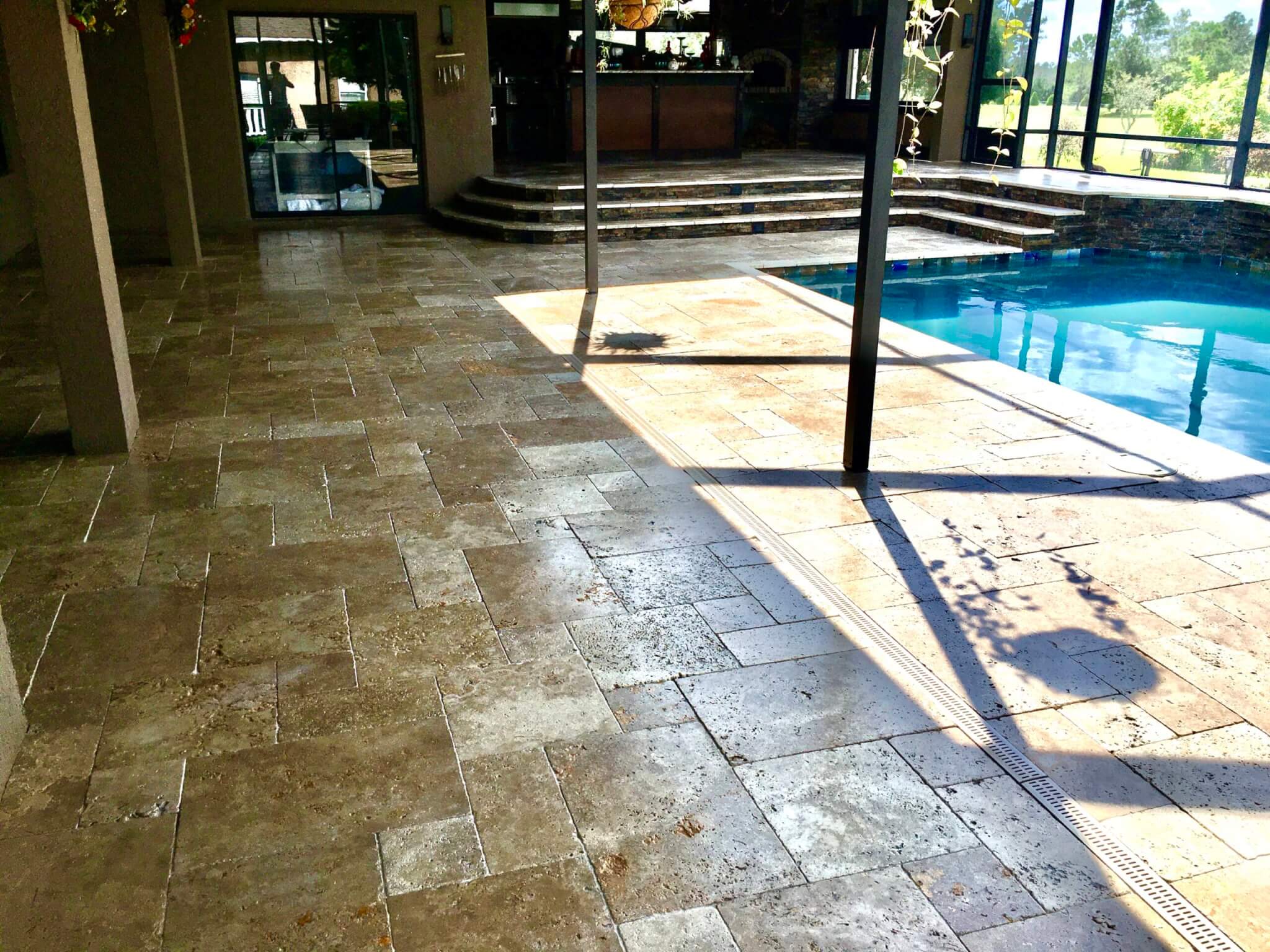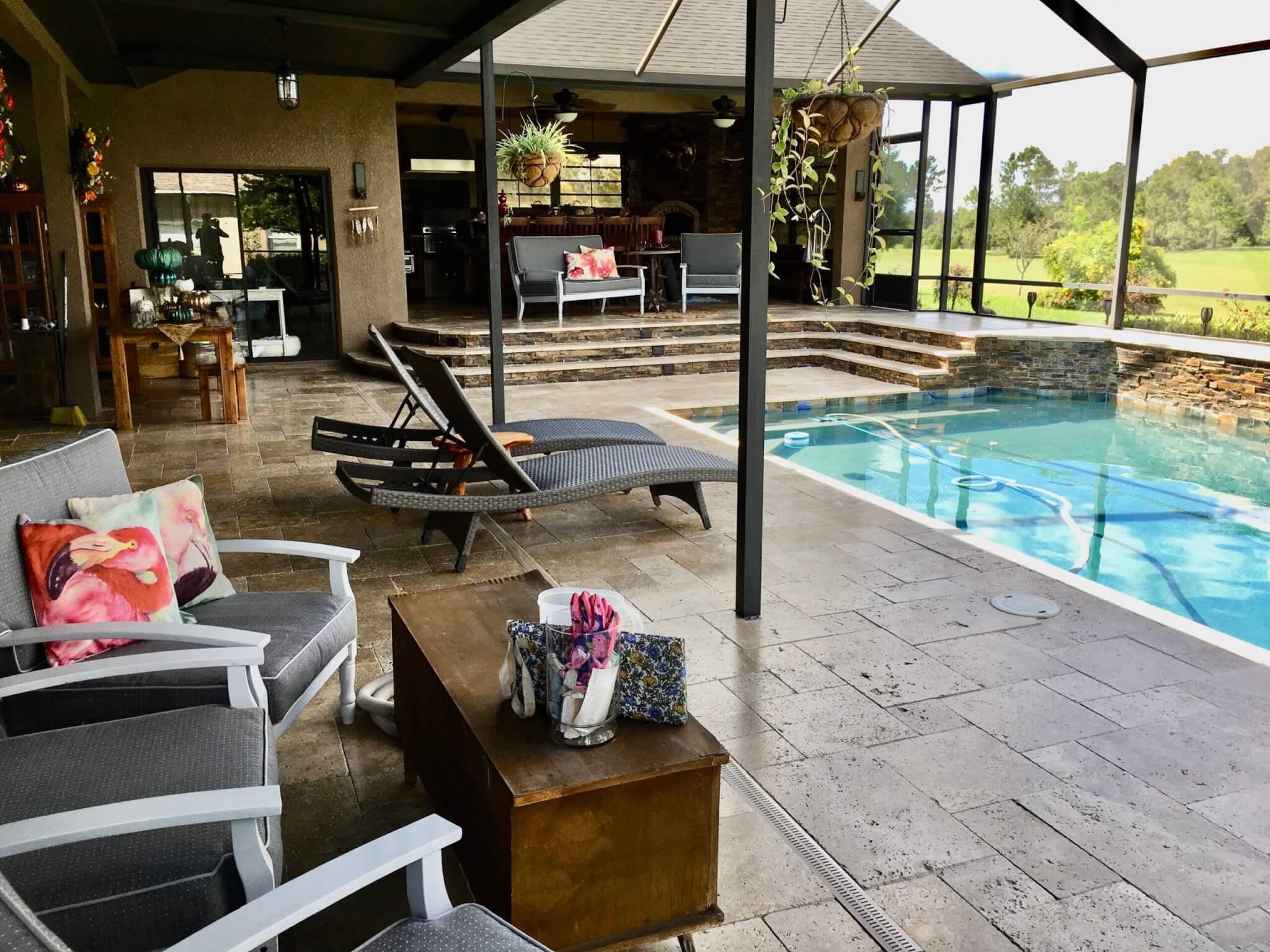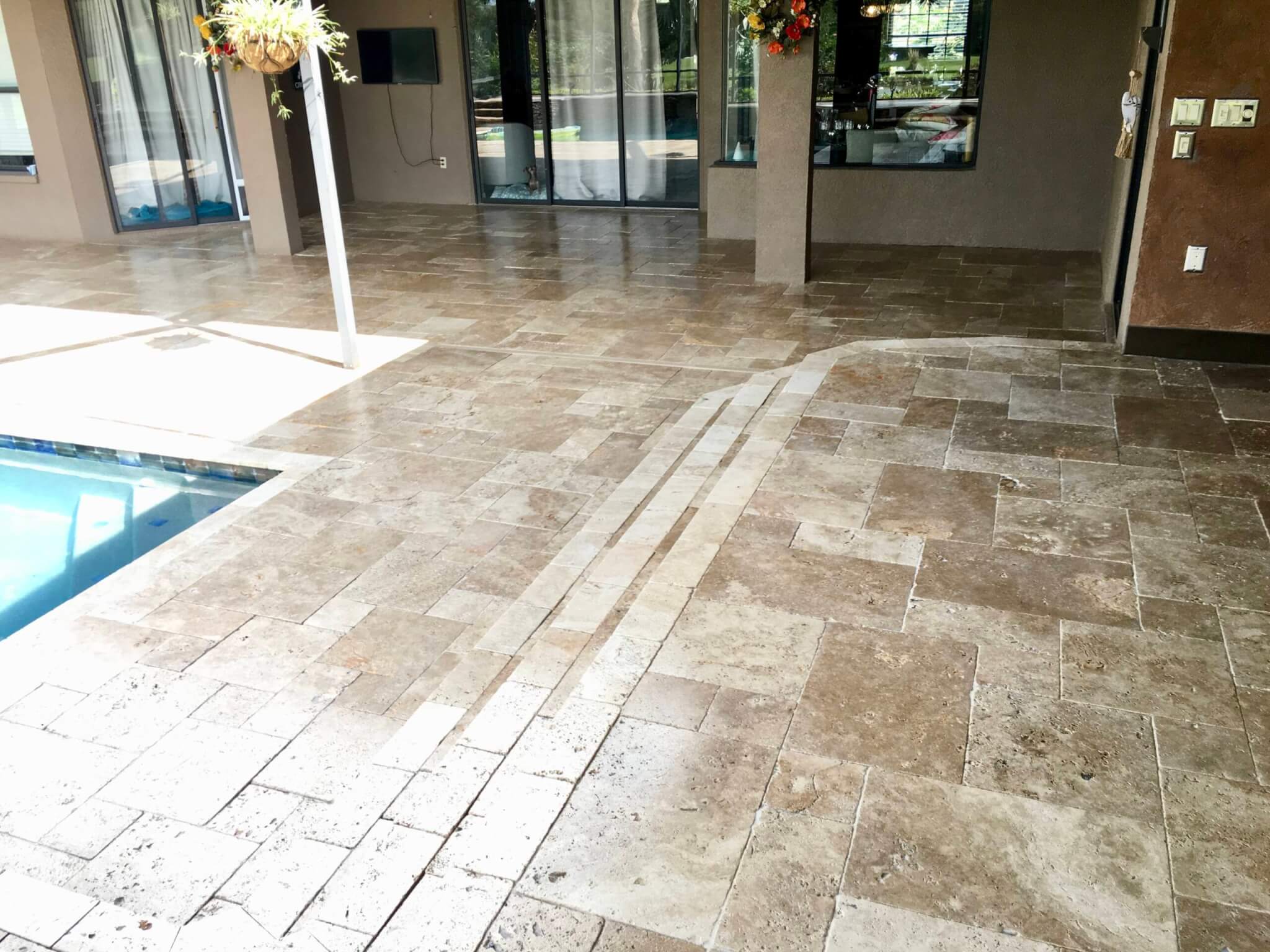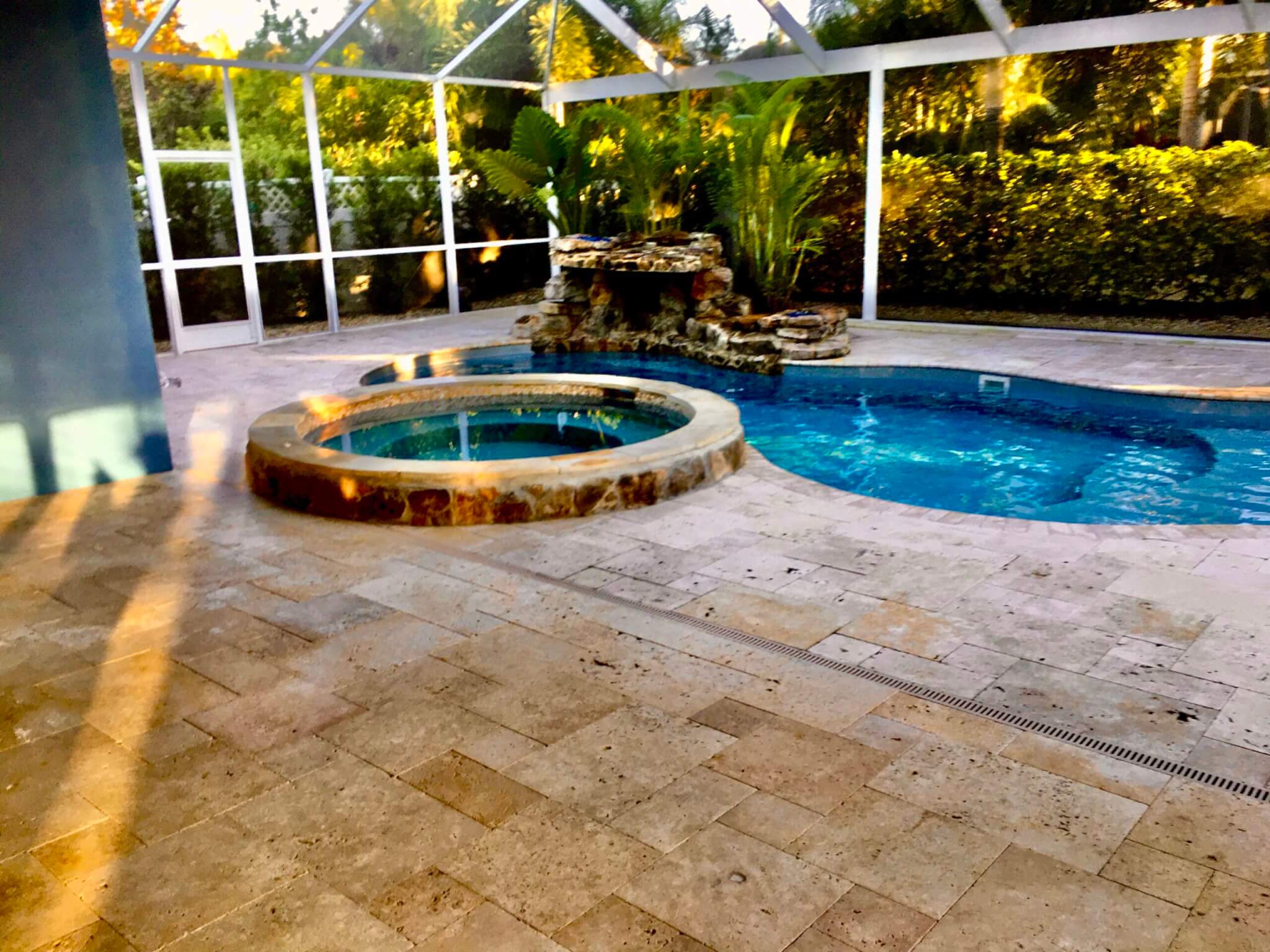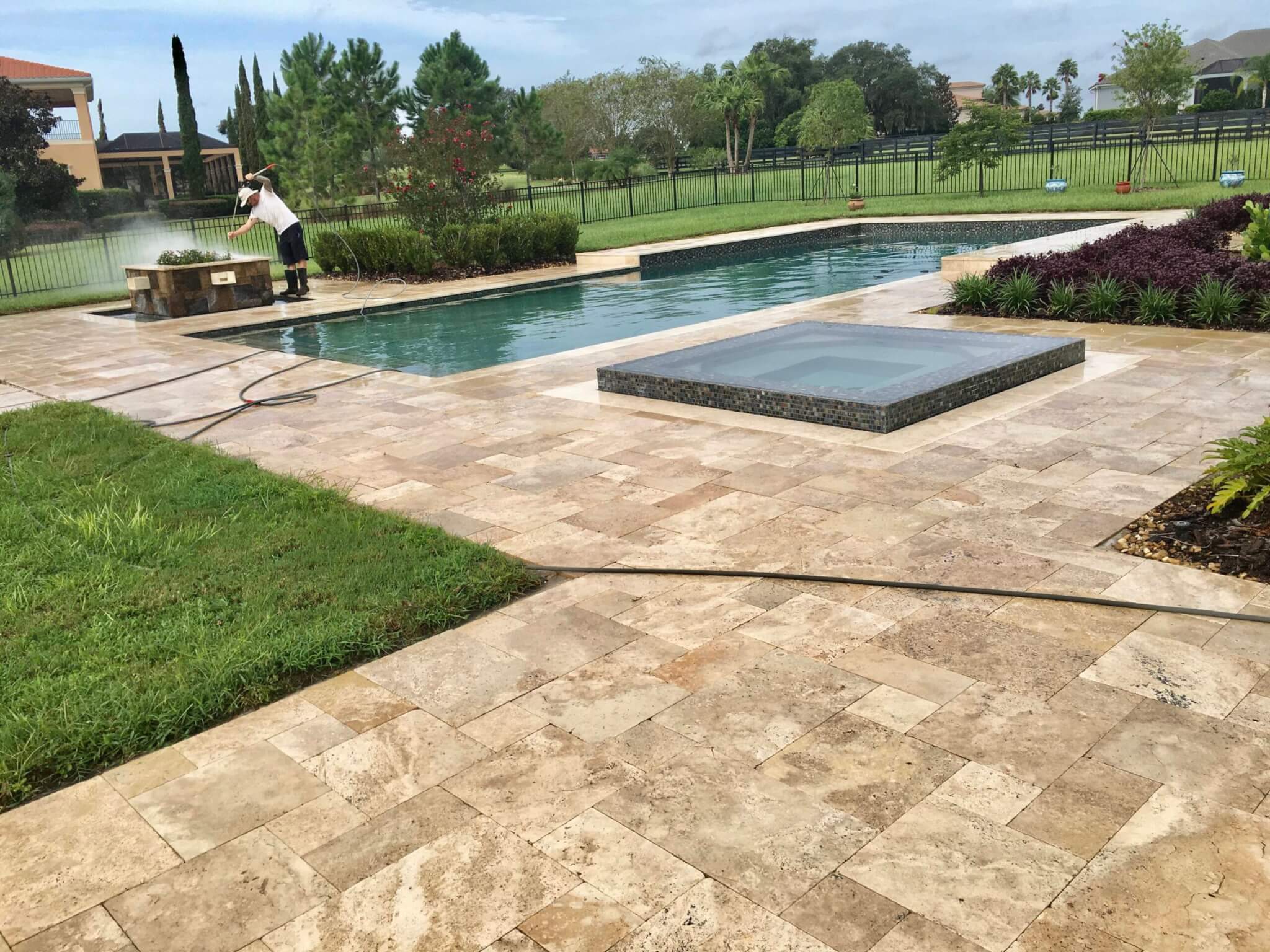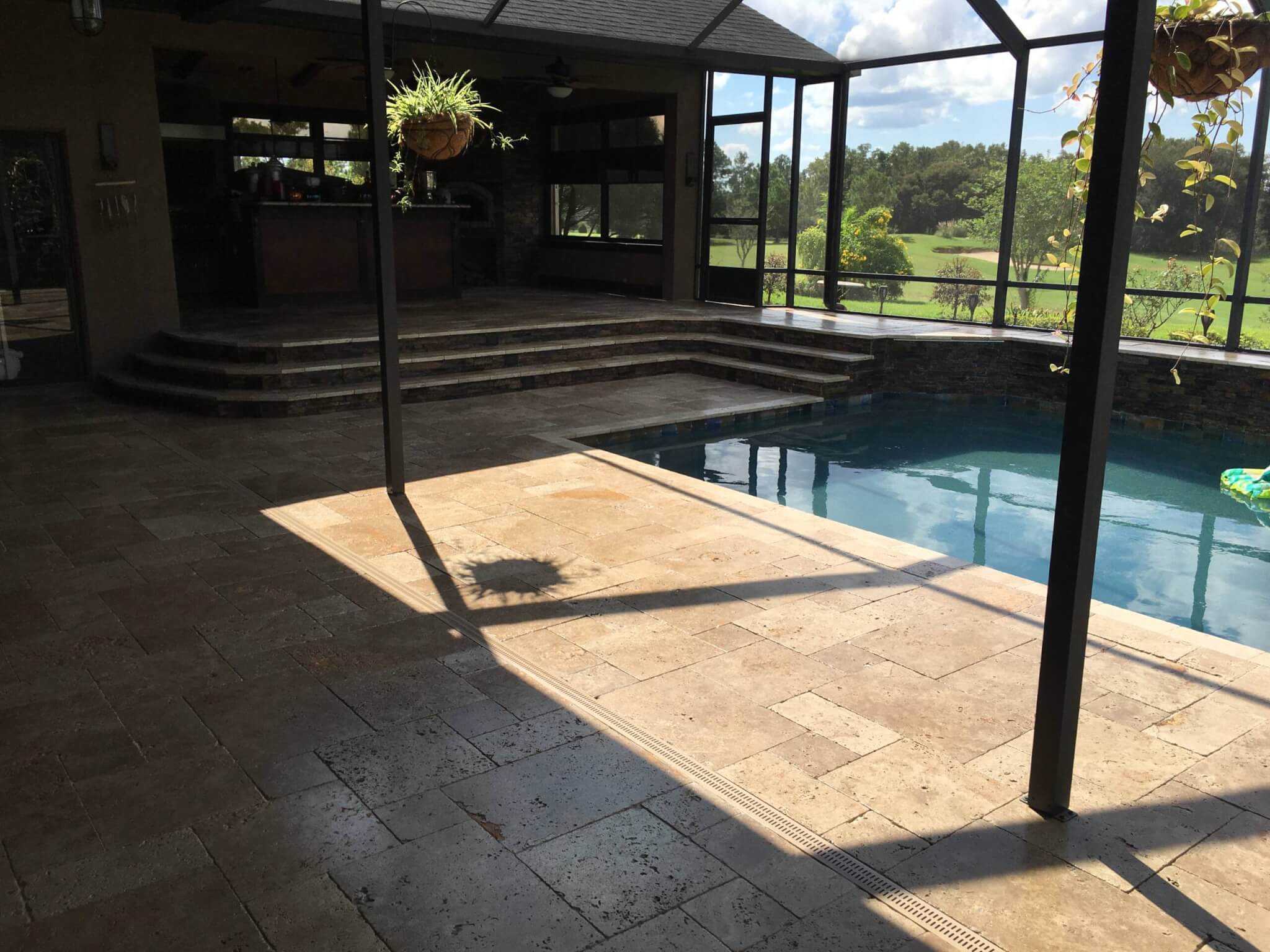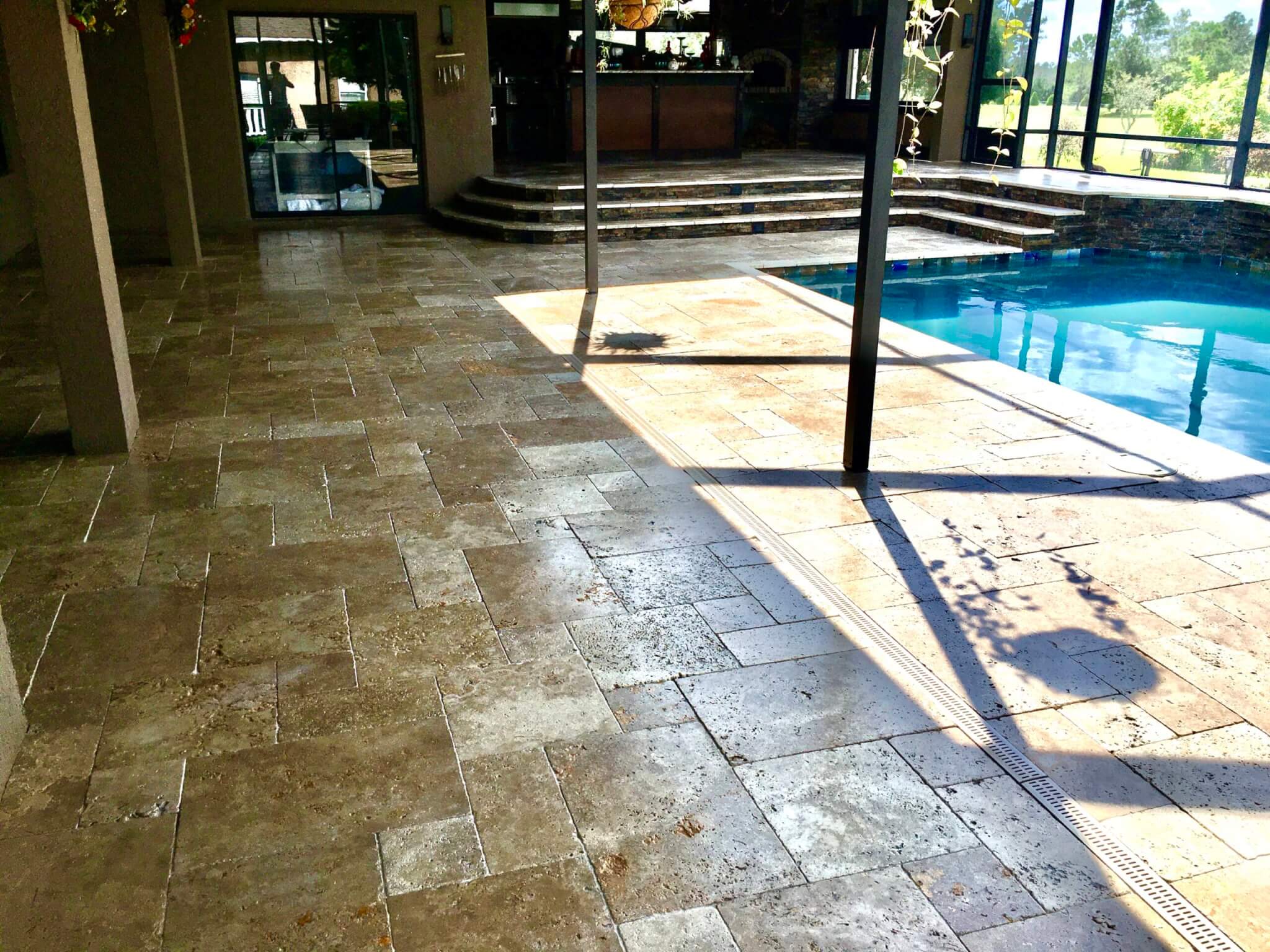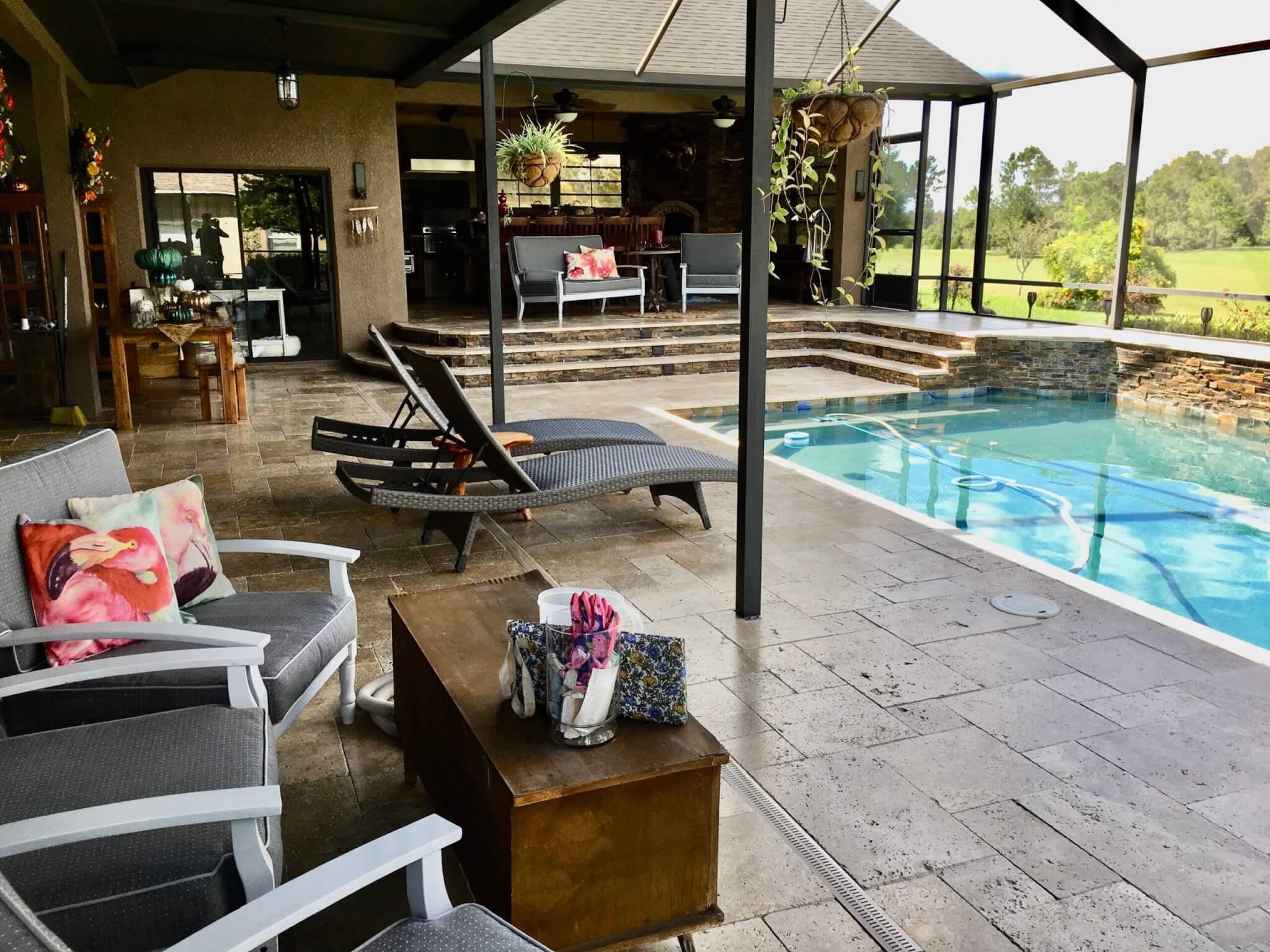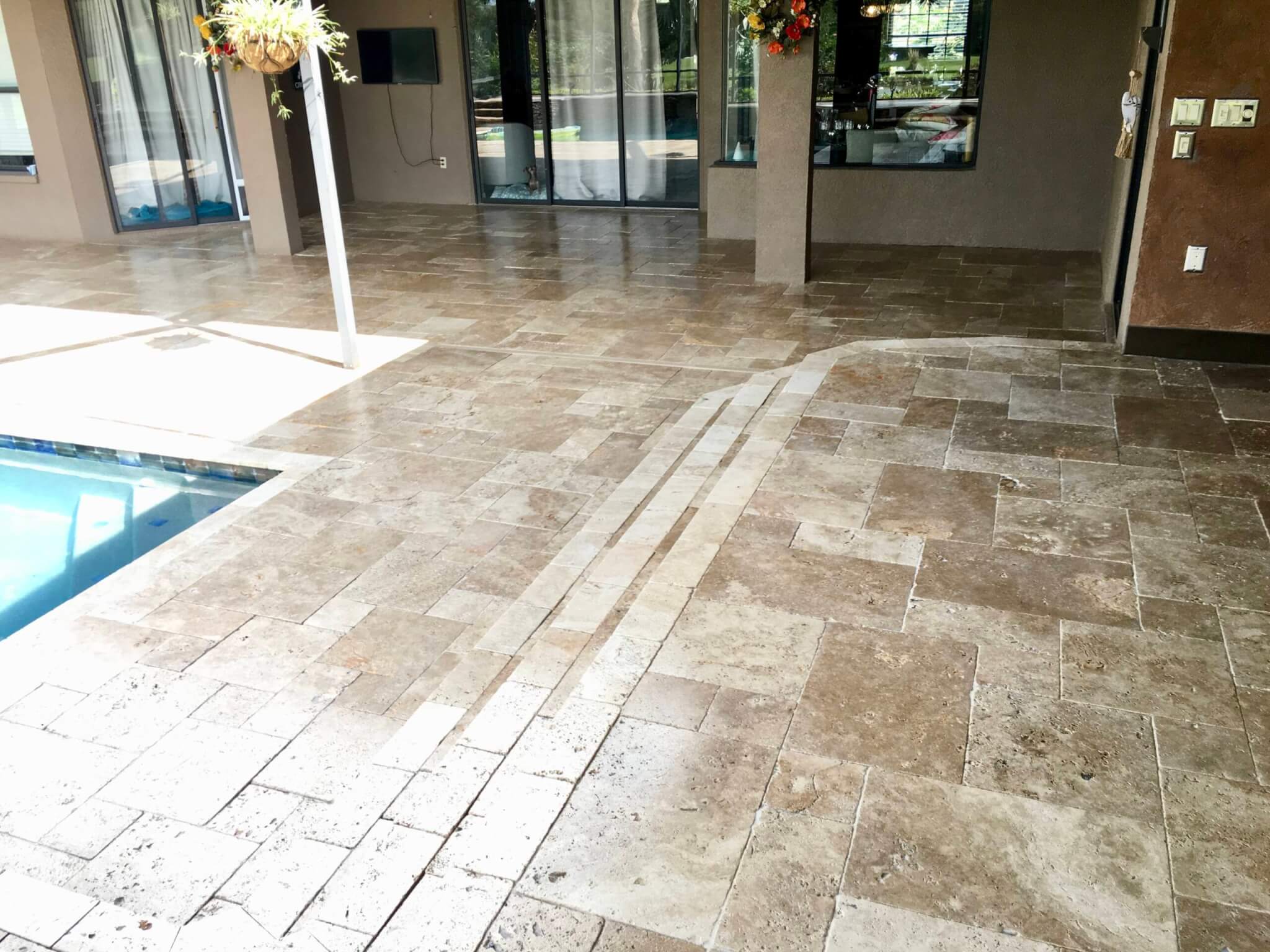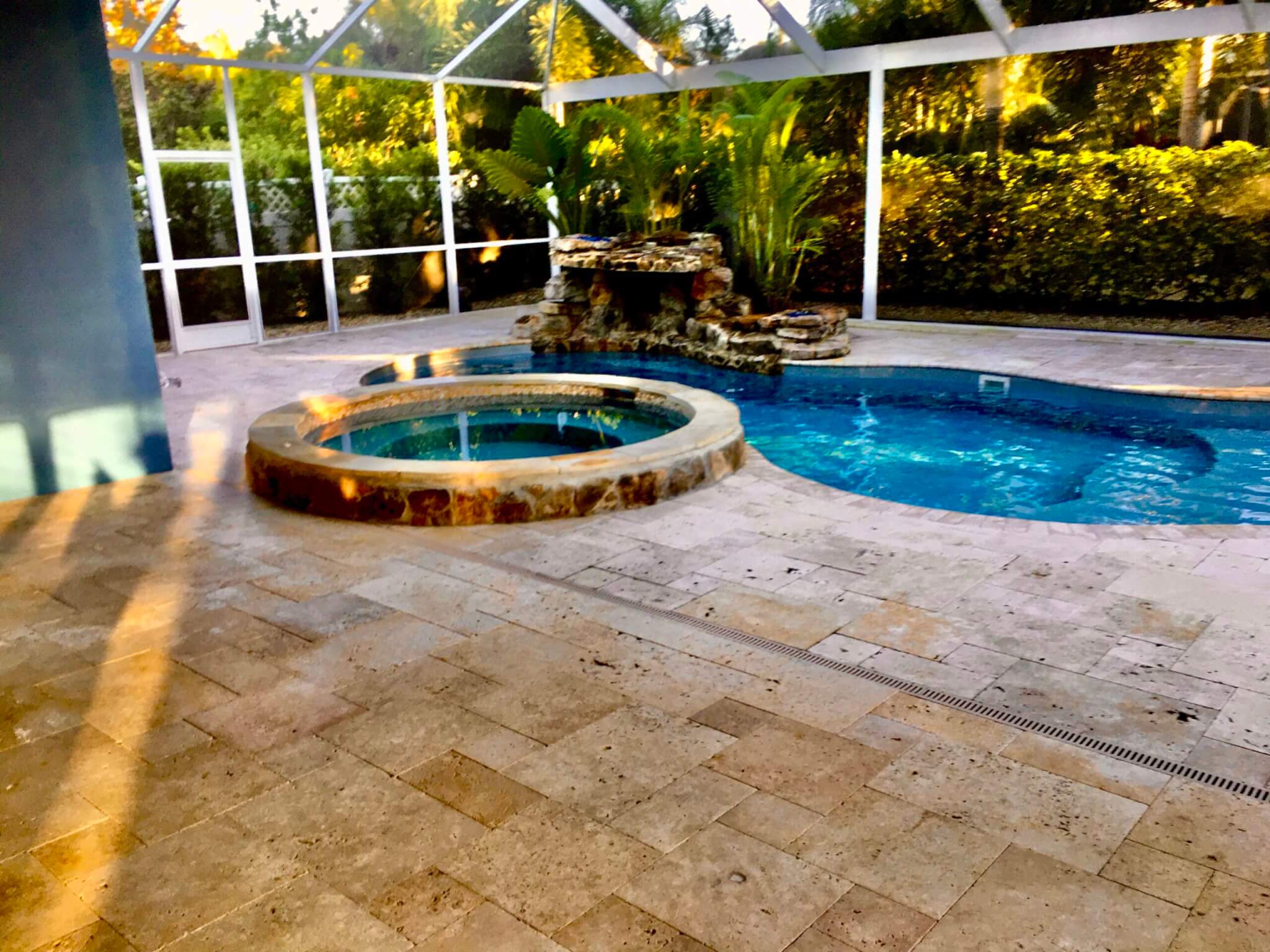 Ure-Seal
Ure-Seal is the most common product used on travertine and is an excellent product that has several applications. It is especially well suited for sealing concrete pavers.

When applied to concrete pavers, Ure-Seal is a Penetrating Sealer that soaks into the porous concrete of the paver stone, enhancing the colors and sheen, while protecting the stones from U.V Rays etc.

Concrete pavers sealed with Ure-Seal, still allows for the "breathability" of moisture to escape through capillary action and evaporate without getting trapped by a film forming sealer. This trapped moisture is what causes pavers to have hazy, milky blemishes across the surface. Results Of The Wrong Product Being Applied.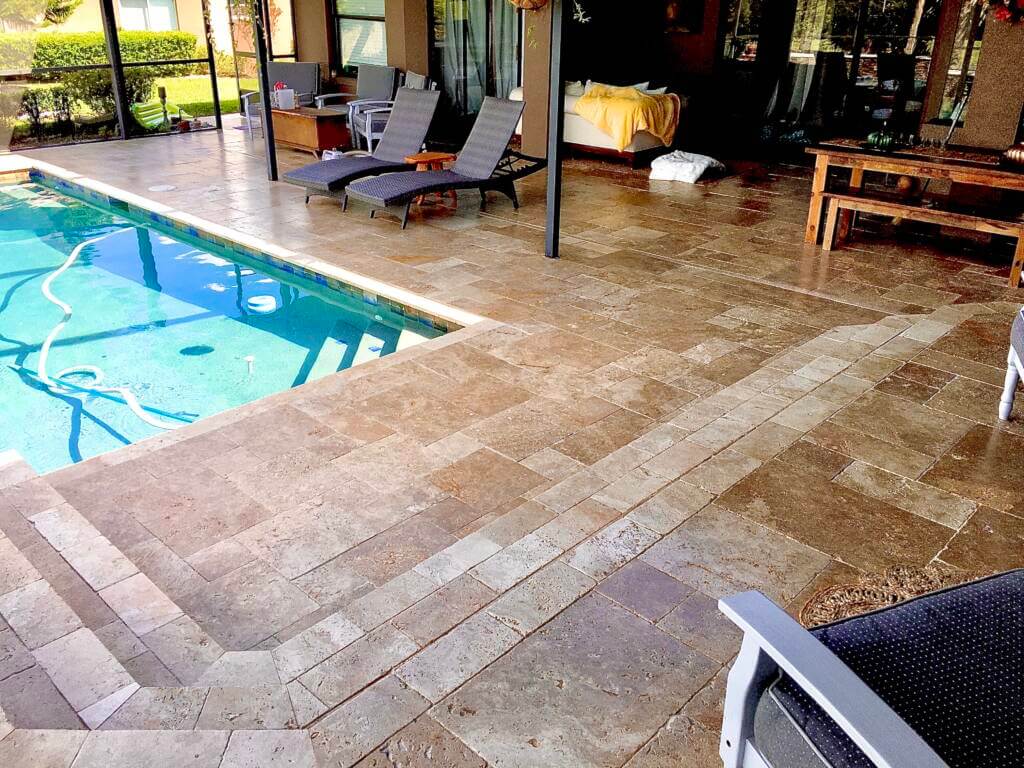 On travertine and natural stones, Ure-Seal can cause similar issues since it forms a film-like sealer on these stones. So… Everybody else is doing it, why not us?

Travertine, Natural Stones and Clay Brick Hardscapes are not the same type of stones as Concrete Brick Paver Systems. Several Factors such as the density of natural stones compared to concrete pavers, and the way in which Ure-Seal forms its bond to a concrete brick paver, versus travertine, will play a vital part in determining which product is right for your hardscape.

The Short Answer is… Ure-Seal is Designed to be a Penetrating Sealer on Concrete Brick Pavers… Not Travertine.

When it is Applied to Travertine and Natural Stones It Becomes A Surface Sealer. Leaving Your Travertine Exposed To Unforeseen Drawbacks & Potential Damage. Travertine is non-warrantable industry wide when sealing with Ure-Seal, except in regards to workmanship, ongoing maintenance plans & associated discounts. (Read our warranties and check that of any Professional competitor)

When Ure-Seal is used on travertine, instead of the sealer soaking into the pores, like it does with pavers, Ure-Seal will sit on top of the dense travertine and form a film-like surface layer coating.
What's The Problem With Film-Forming Sealer On Travertine?
Several issues arise when a film forming sealer is used in the wrong application. With Travertine, imagine how easy paint will chip off a smooth surface such as scraping paint off a piece of glass… That is exactly the bond Ure-Seal provides on travertine applications.
Why Ure-Seal is Not what I would use on my NEW travertine pool deck
This film forming sealer means instead of the sealer soaking in, it sits on top and creates a film that will wear down and potentially flake off the surface over time. Depending on many variables such as traffic and other weathering factors the length of time before additional maintenance is required will vary.

This film forming sealer causes other problems…
The film is going to trap moisture under the travertine.  Moisture in the ground seeks to evaporate from under your hardscape. That is an unavoidable likelihood in our region of Florida.
If Moisture Is Trapped by this film forming sealer it will result in Whitening and Hazing.  Nobody wants to see these ugly blemishes and when it comes to sealing removal and restoration, It's Absolutely Expensive.  Failed coatings require Industrial Chemicals & Equipment, as well as Professional Expertise and a whole lot of work, to get great results.
Trapped Moisture Can Build Up Hydrostatic Pressure and over time potentially crack natural stones and slate travertine.
There may be routine and ongoing upkeep to maintain the microgrip, nonslip texture.
*There are good sides to Ure-Seal on Travertine! Such as the nice glossy sheen and the ability to help "lock In" sand. We list the pros and cons below for easy comparison.*

*Ure Seal has been the go to choice for many contractors on travertine simply because of ease of application.*
Travertine Sealing Pros & Cons
Stone Show
Designed for travertine and natural stones
Best Choice for newly installed travertine or natural stones that have not been sealed already
Seals travertine without the need for Grip Texture * Does Not Alter Profile*
Penetrating Sealer
Creates a Hydrophobic Barrier that repels water
Allows for breathability of ground moisture.
Available as Natural, Enhancer and Nano Stone Show Sealers
More involved / difficult application and preparation. (Experts Only!)
Most Premium Choice for Travertine
Maintenance Plans Available
Ure-Seal
Designed For Pavers
Only option if already sealed with similar products.
Must have Grip texture generously applied to prevent slipping. *Covers profile of stone and adds a fake profile (Micro Grip) that is subject to wear with traffic*
Surface Sealer (on travertine)
Creates a Film-Forming Barrier
Does not allow for proper breathability of ground moisture
Available in Natural, Mid Gloss and Gloss(wet look)
One Day Process / less difficult application
Sand is sealed into joints
Most common type of premium sealer applied to travertine
Excellent sheen
Looks Great
Lower cost for installation
Maintenance plans available
Only option if previously sealed
If Your Travertine Has Already Been Sealed Previously
Please Note: Travertine that has already been sealed with Ure-Seal or similar products is not eligible for Stone Show penetrating sealer because the surfaces will still have old sealer preventing absorption into the stone itself.

Therefore the best option is to seal your deck with Ure-Seal and add a generous application of micro grip to the finish coat of sealer.

NOT SURE IF ITS BEEN SEALED? Watch this video to identify whether or not your Travertine has already been sealed.
Stone Show Travertine Sealing
Stone Show is designed for your Natural stones.

Whether you're looking for a completely natural look or just a bit of enhancement to the colors of your travertine hardscapes, Stone Show is the best option for Protecting Natural Stones and here's why…

Stone Show will protect the integrity of your stones by repelling moisture as well as offering superior stain protection from mold and algae as well as oils grease rust and other blemishes.

With Stone Show, we properly treat all travertine surfaces with commercial etching chemicals and mold removers before pressure washing every inch of the travertine stones.

This process opens up the profile of the stone allowing the pores to absorb even more sealer. Meaning once we apply Stone Show to your deck, the sealed stone will be slightly less slippery than the unsealed, bare stones are wet. Without the need for a fake grip that can wear down quicker than expected.

Because Stone Show is a penetrating sealer, it will create a Hydrophobic barrier that repels moisture and at the same time allows for the breathability of the moisture present in the ground.

This Avoids Exposing Your Travertine to the possibility of having a failing, white, hazy sealer and also removes the chances of cracking damage due to hydrostatic pressure build up; both issues are caused by improper product or application and both are caused by trapped moisture.

Ultimately, Stone Show is the Premium Choice for Sealing Travertine in Tampa, the Nature Coast, Central Florida and South Florida.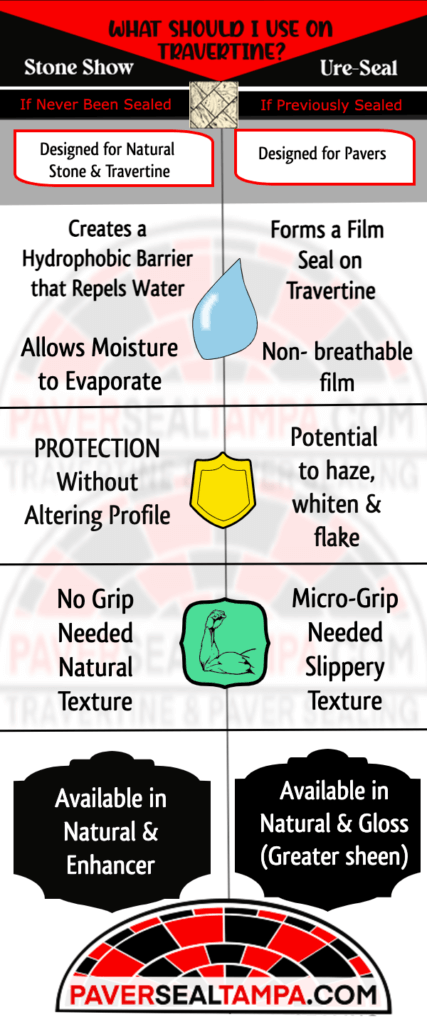 Travertine & Natural Stone Sealing Experts
At Paver Seal Tampa we strive to exceed expectations and deliver a final product that we are proud of… And you will be too! Contact our office today to get a FREE quote for your next project