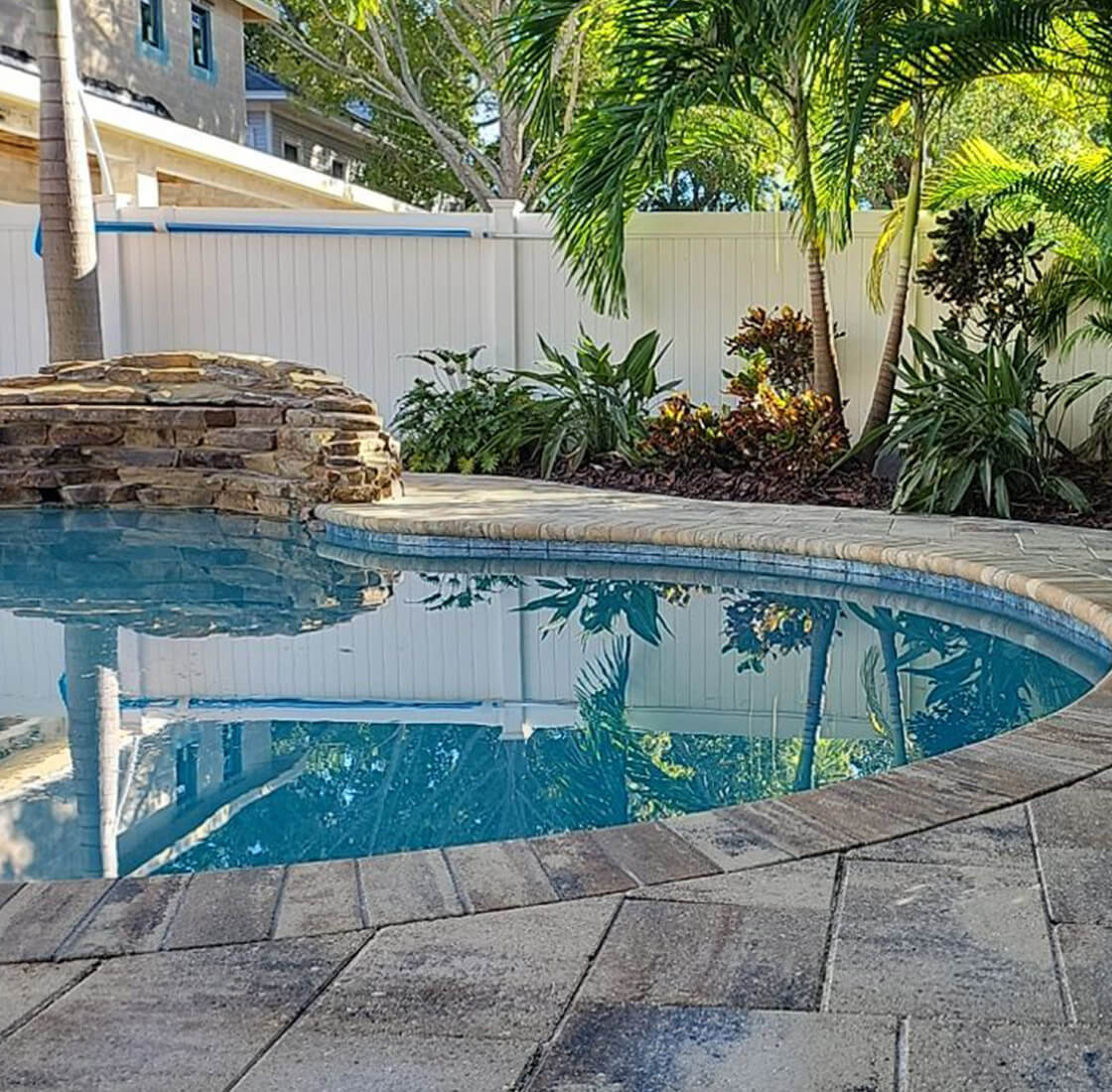 Enhance The Beauty Of Your Home
Are you looking for an Expert brick paver cleaning and sealing company in Tampa Florida that you can count on?  Is it time to rejuvenate the look of your driveway or pool patio pavers?  Are you being proactive in maintaining your new pavers?
If you have answered yes to any of these questions — you're in luck.  At Paver Seal Tampa, we are experts when it comes to helping you boost your property's curb appeal — we'll supercharge it. The difference is amazing.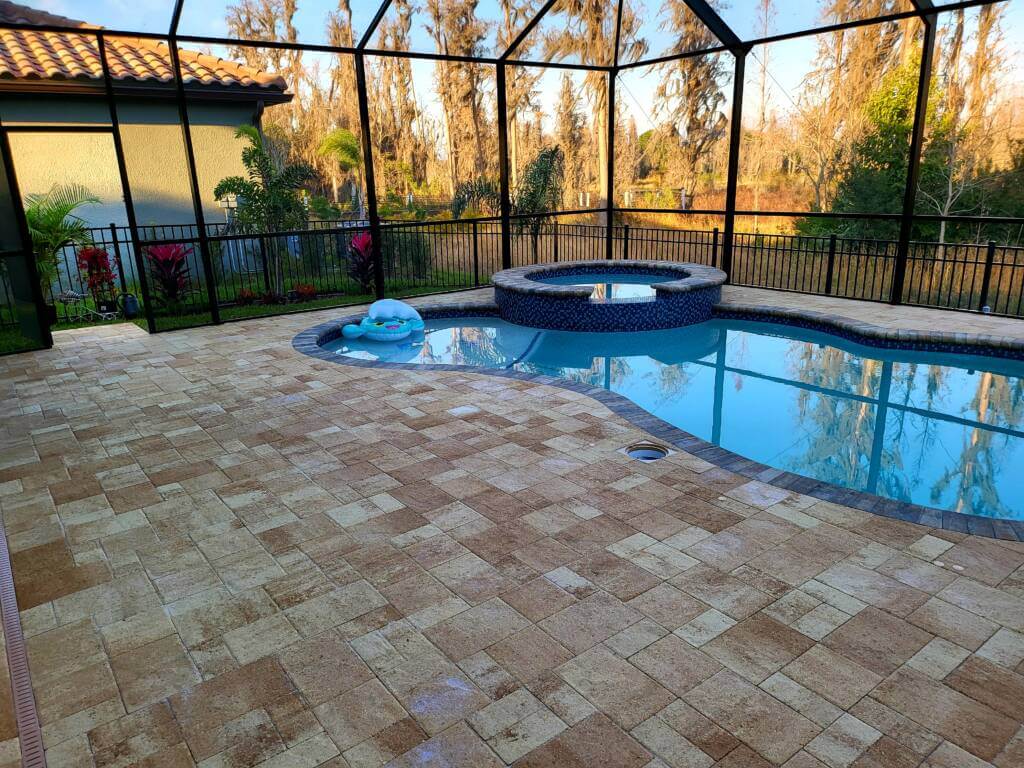 We Take Pride In Every Job and When We're Done You'll Be Proud Too!
There is nothing better than pulling up on your freshly sealed, eye-popping driveway or enjoying the sunset at your backdoor paver oasis, knowing your investment is protected and will continue looking great for years to come.
Unmatched Experience
At Paver Seal Tampa, we have years of experience in helping to restore your property's pavers. We are an honest, hard-working team who make your satisfaction our top priority. If you are looking to regain that eye-popping curb appeal for your home, get in touch with our family owned and operated company today for a complimentary estimate.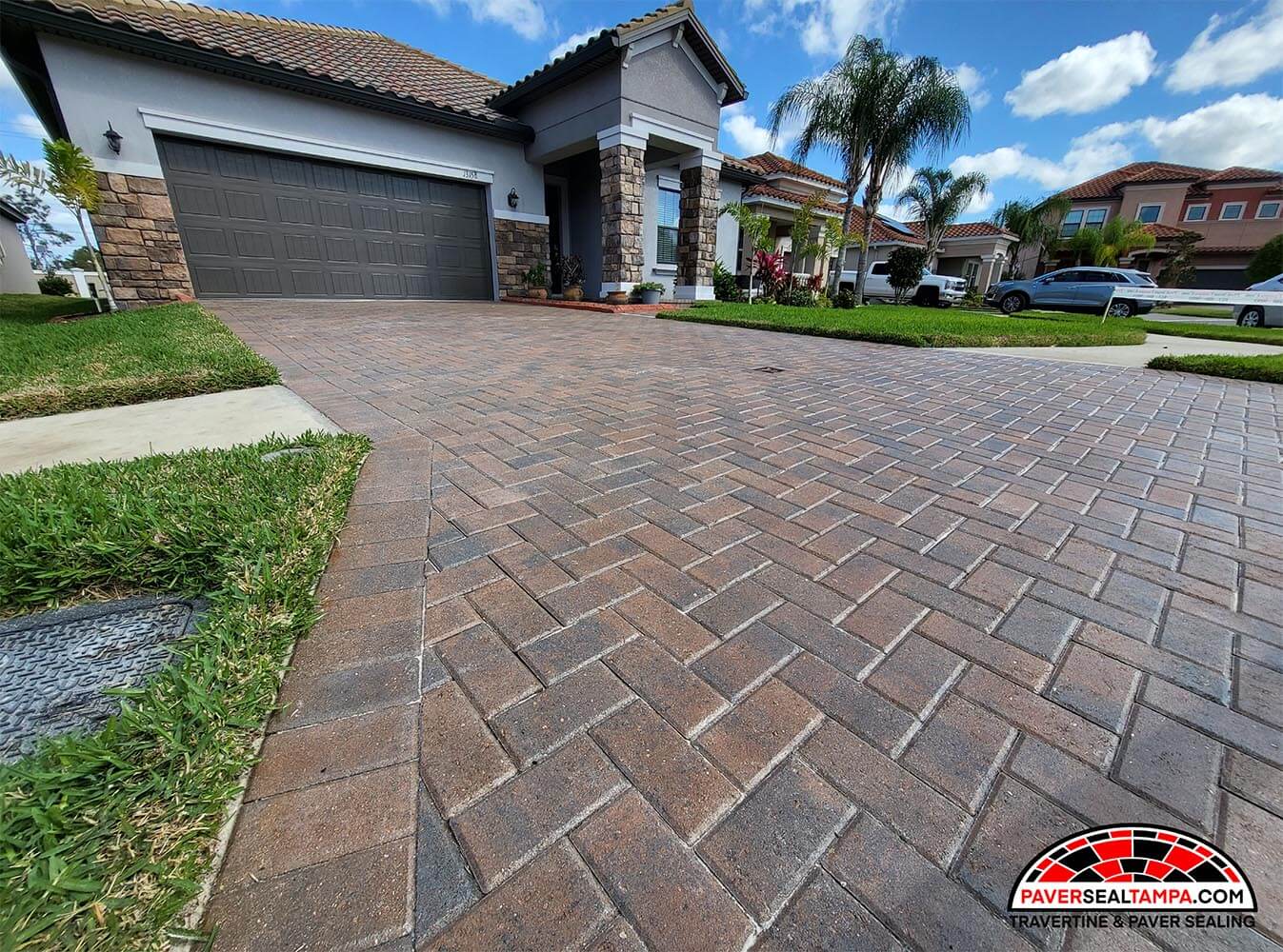 Why Should You Seal Your Pavers?
1. Resist staining: Sealed brick pavers resist staining better by preventing stains from penetrating into the pores of the stones (grease, oils & rust).
2. Instant Curb Appeal: Add 10% market value with "Eye Popping Appeal" with a deep clean and color enhancement sealing provides.
3. U.V. Protection: Keep the Rich Colors of your pavers from fading in the sun.
4. Hinders weed growth, insect intrusion and mildew staining.
5. Structural Integrity: Sealing sand into the joints stabilizes the paver system.
6. Variety of sheens, from Natural Matte to a Glossy Sheen (Higher sheens depend on the porosity of the pavers.)
We Make Pavers Pop
Professional paver cleaning and sealing will renew and protect pavers.
We bring out the best in your hardscapes, enhancing their natural beauty and creating a barrier that protects against the sun, mold, oil, mildew, stains and weed growth, as well as providing sand stabilization at the same time!
Paver Seal Tampa is The Best Choice for Brick Paver Sealing in The Tampa Bay Area.
Serving Pasco County, Hillsborough County, Citrus County, Sarasota County, Manatee County and Hernando County Florida Polk County (all surrounding areas). Our commercial division serves the entire state!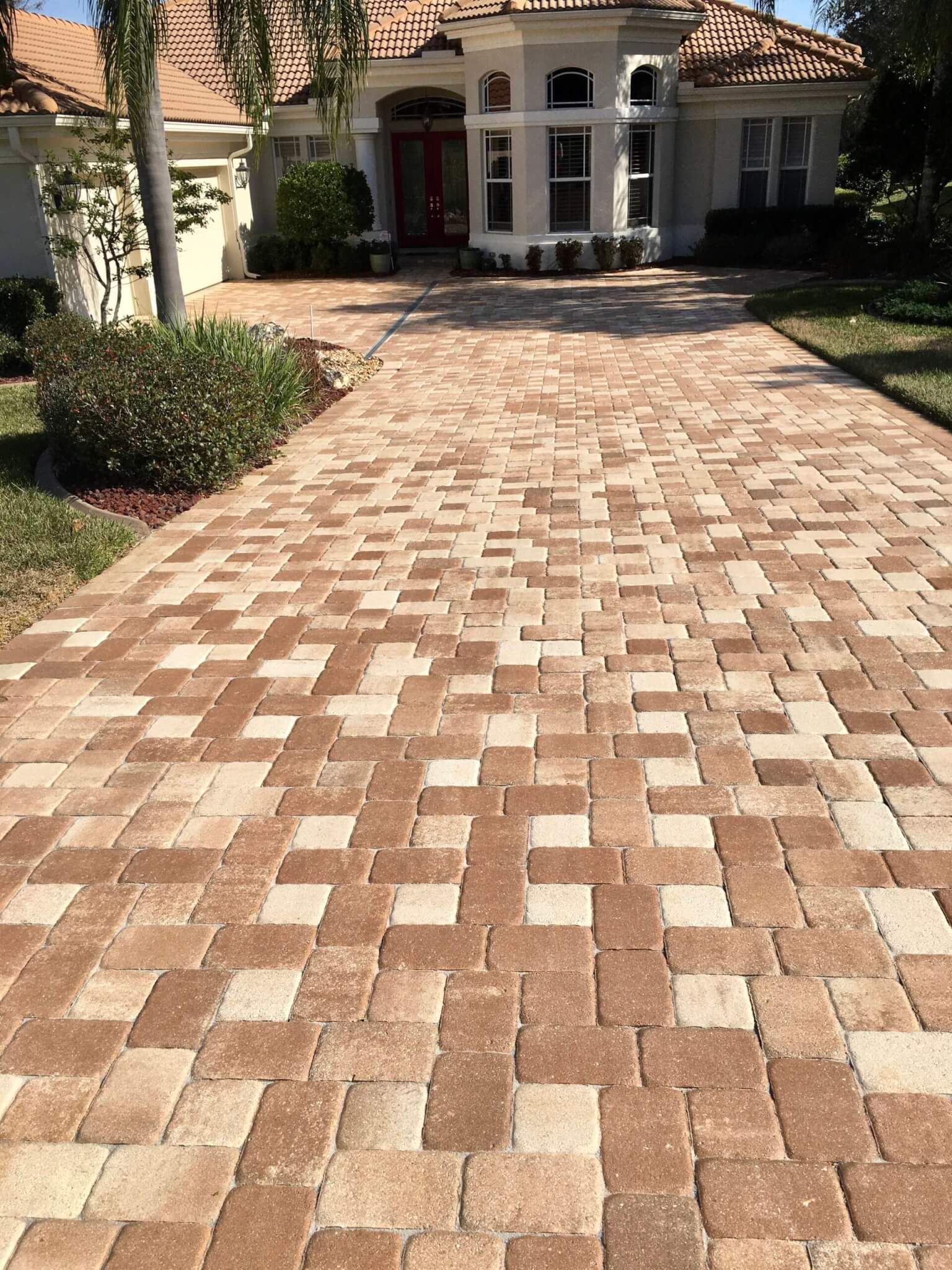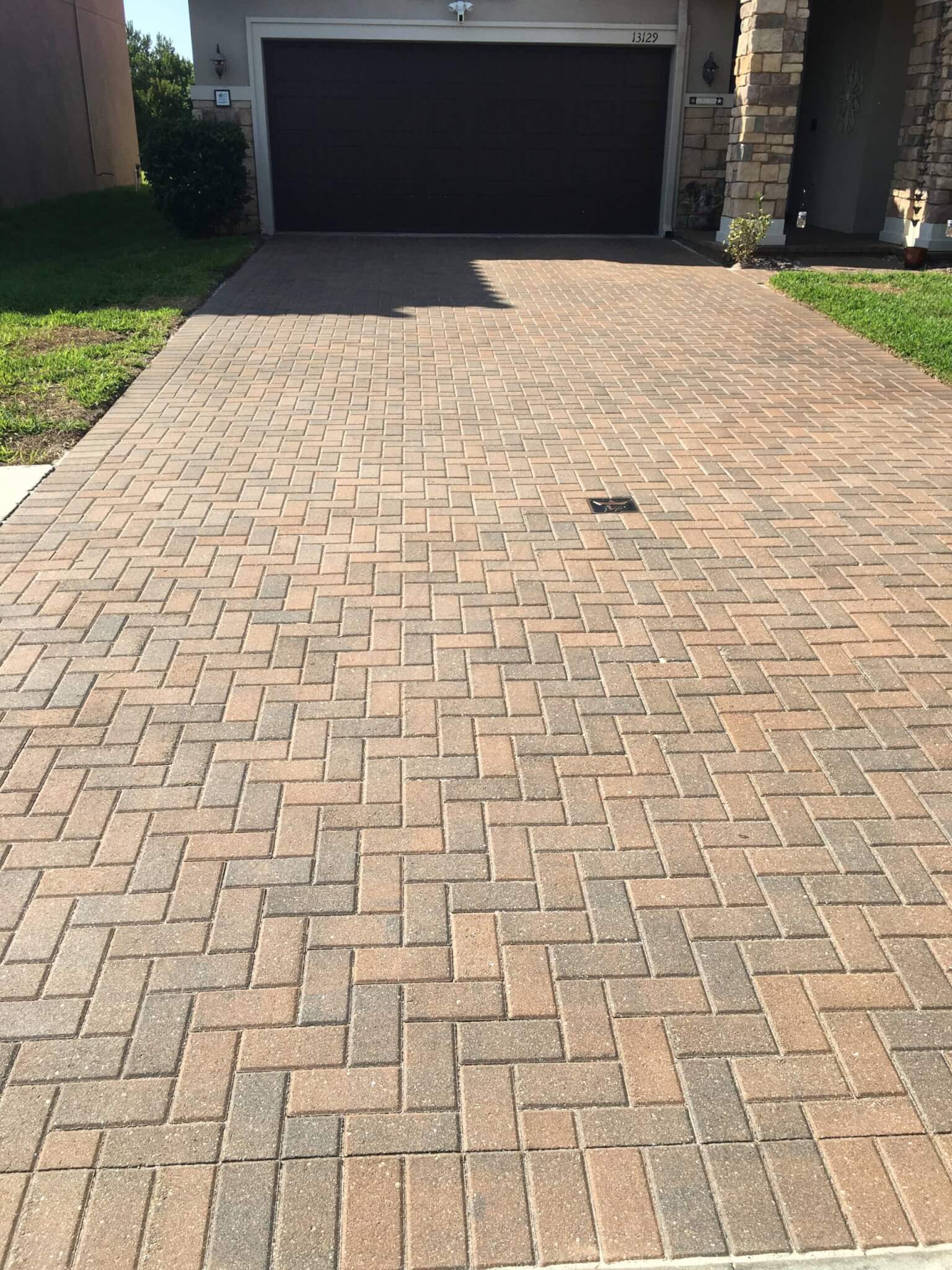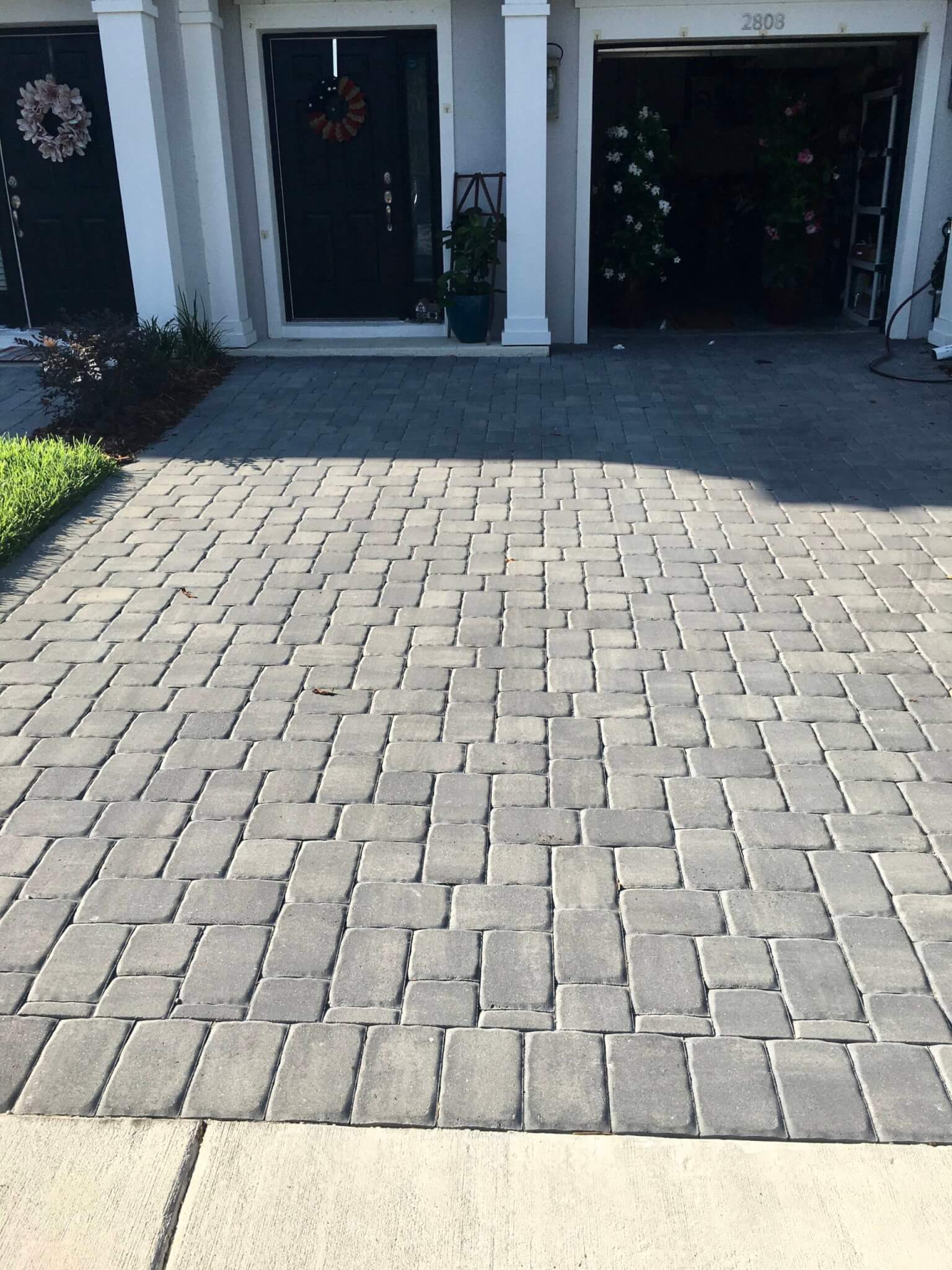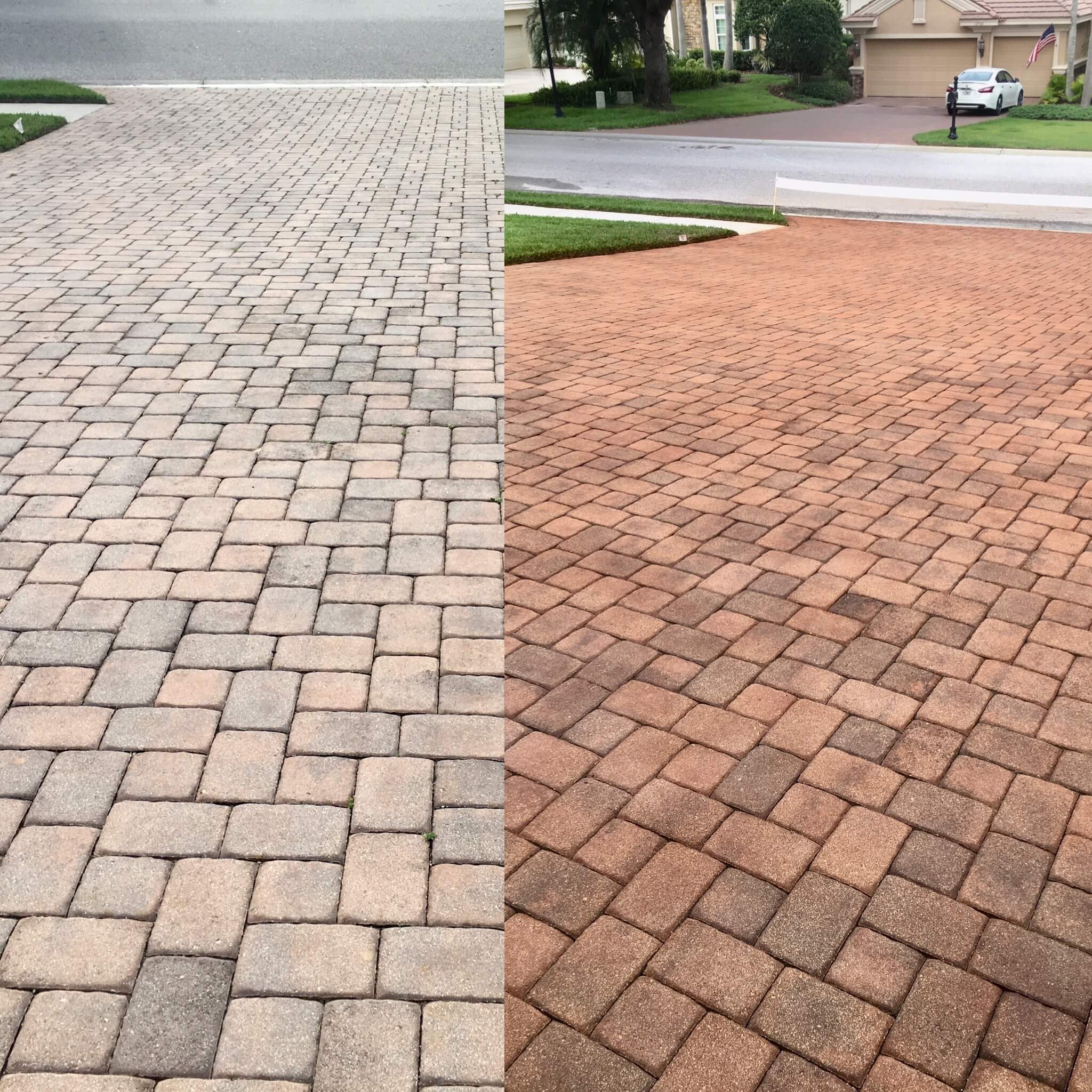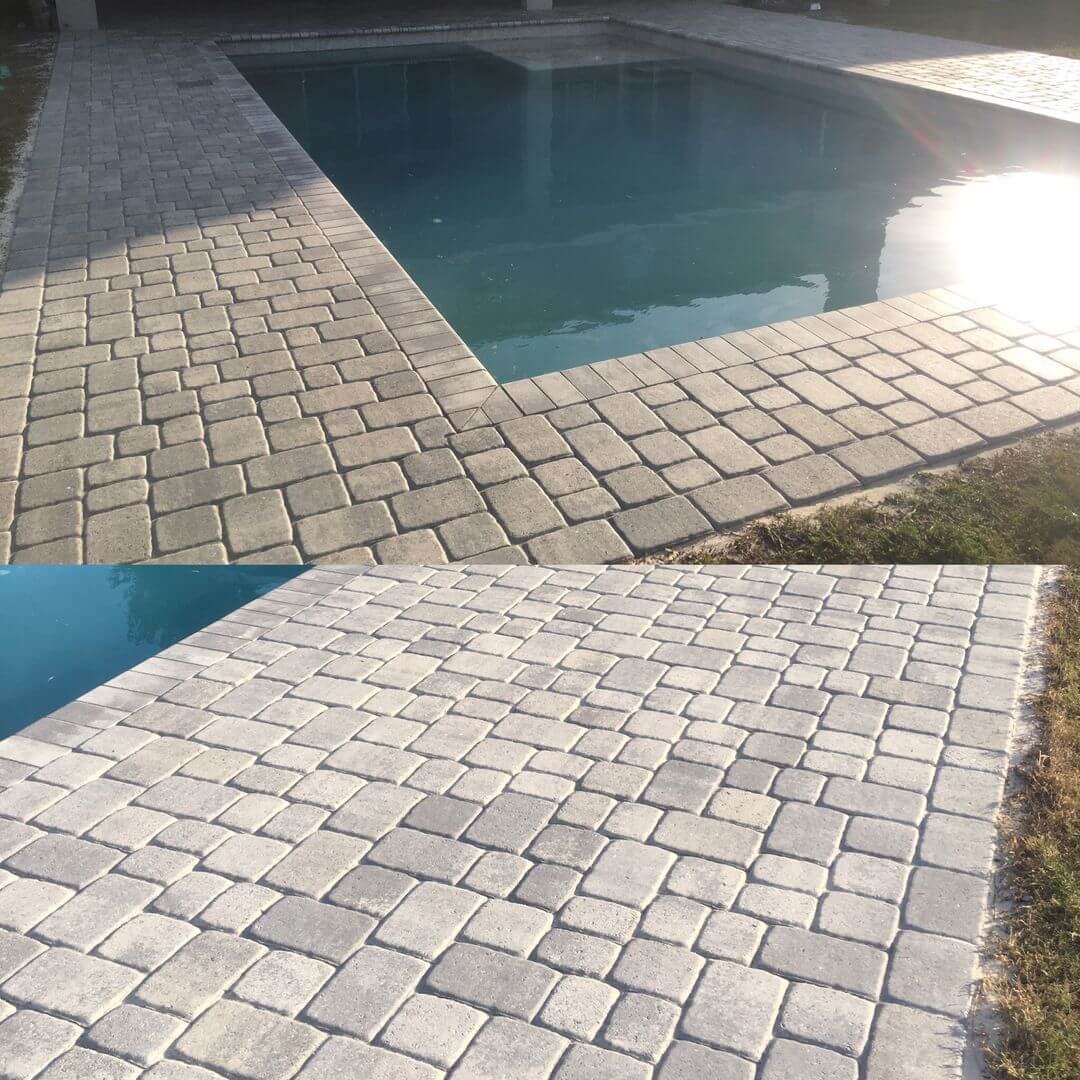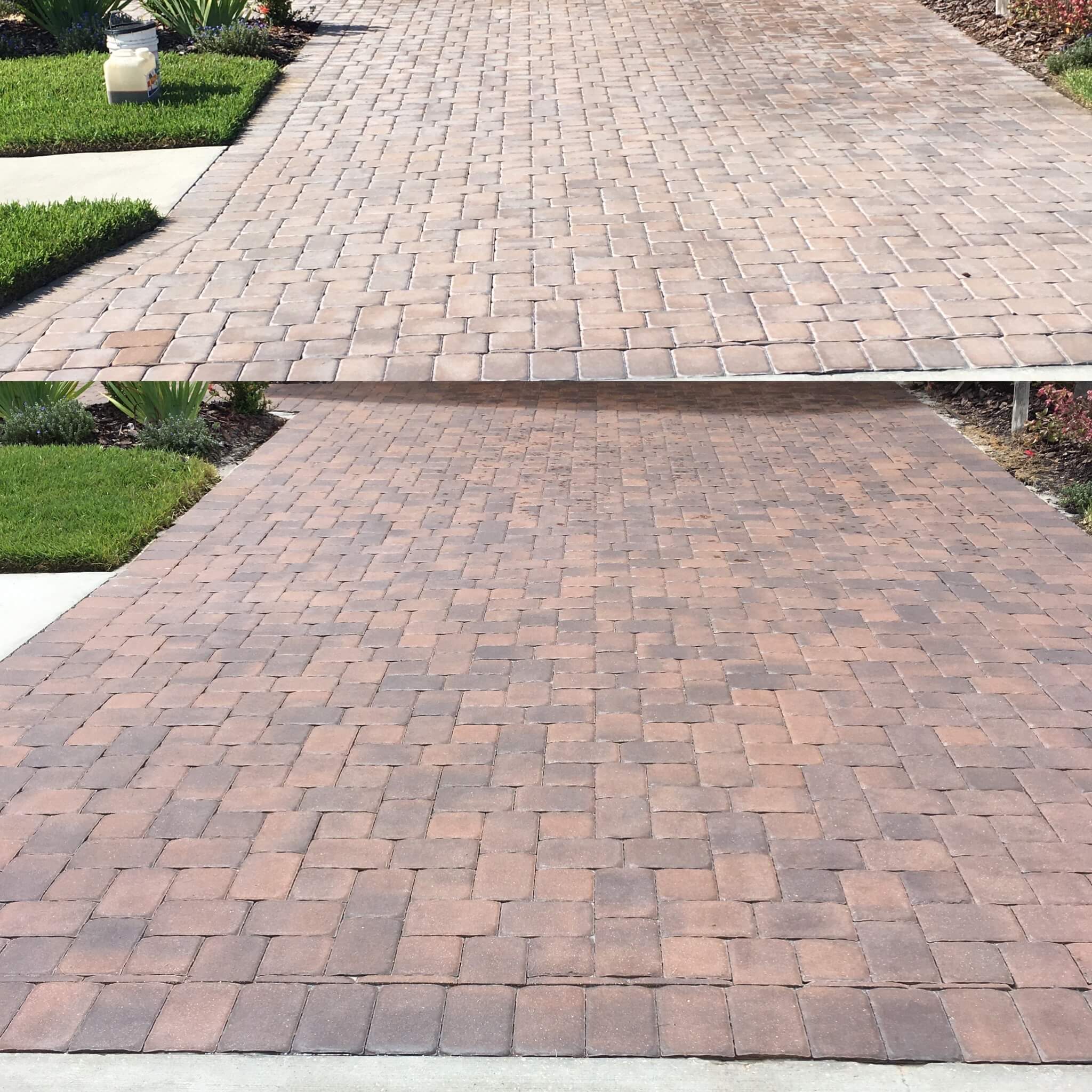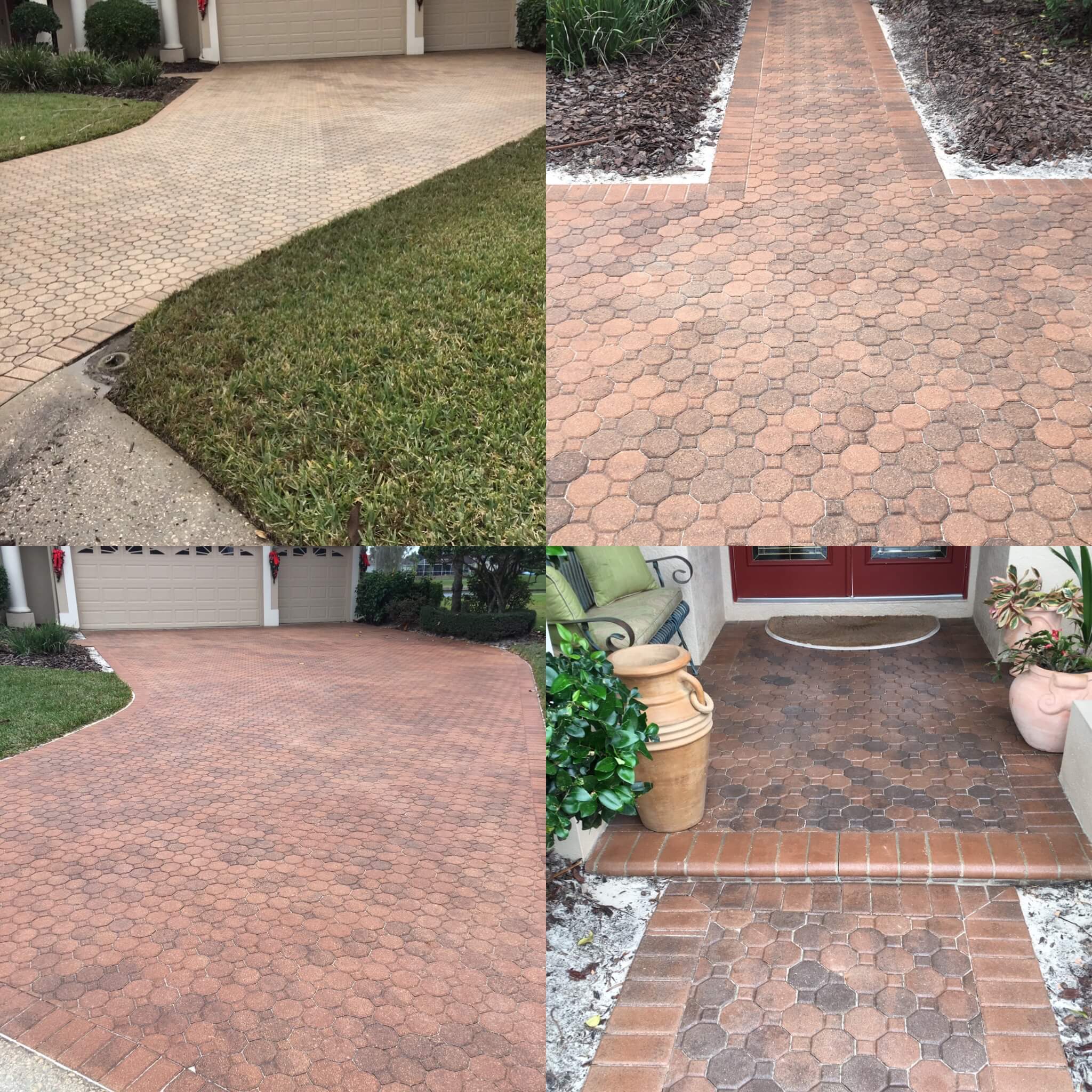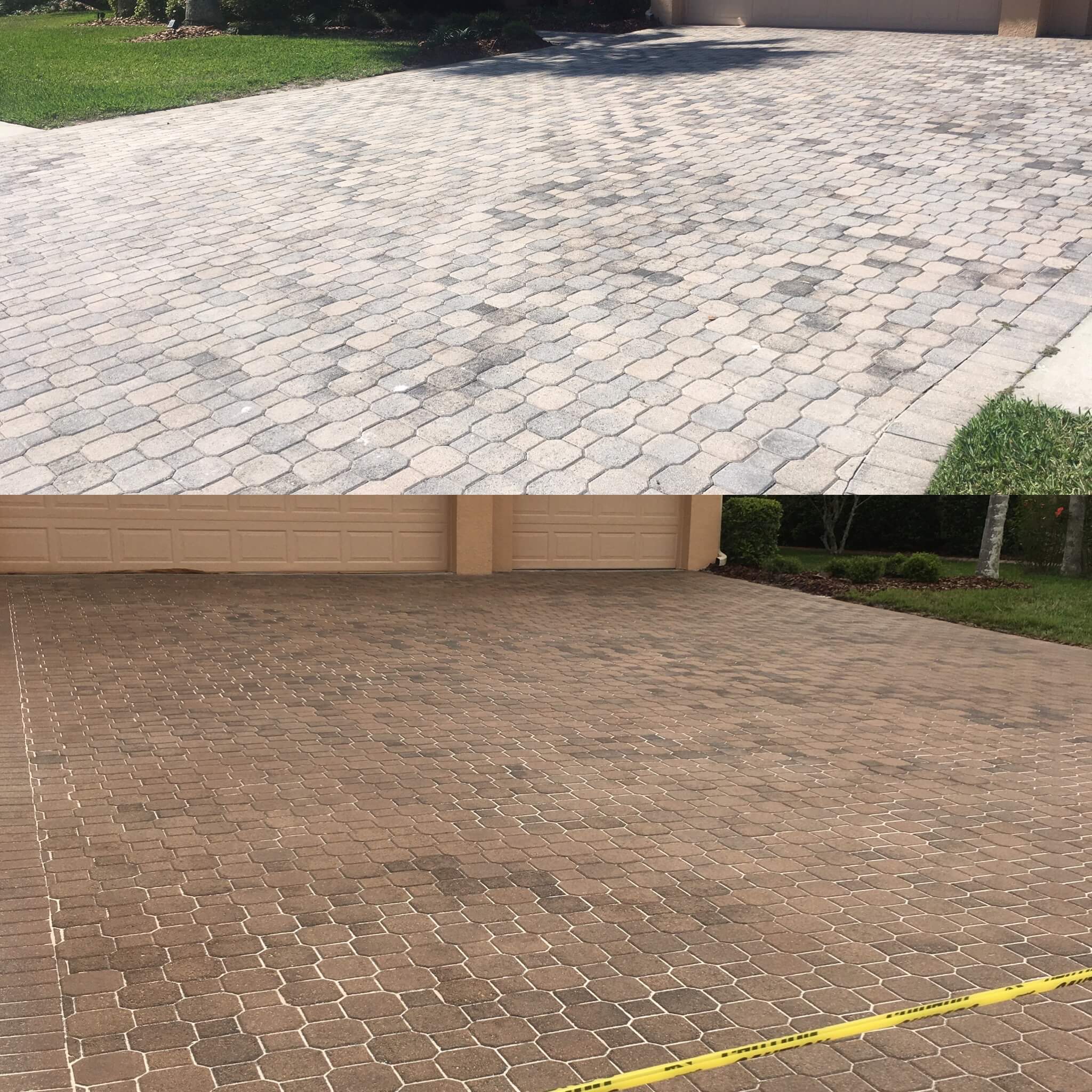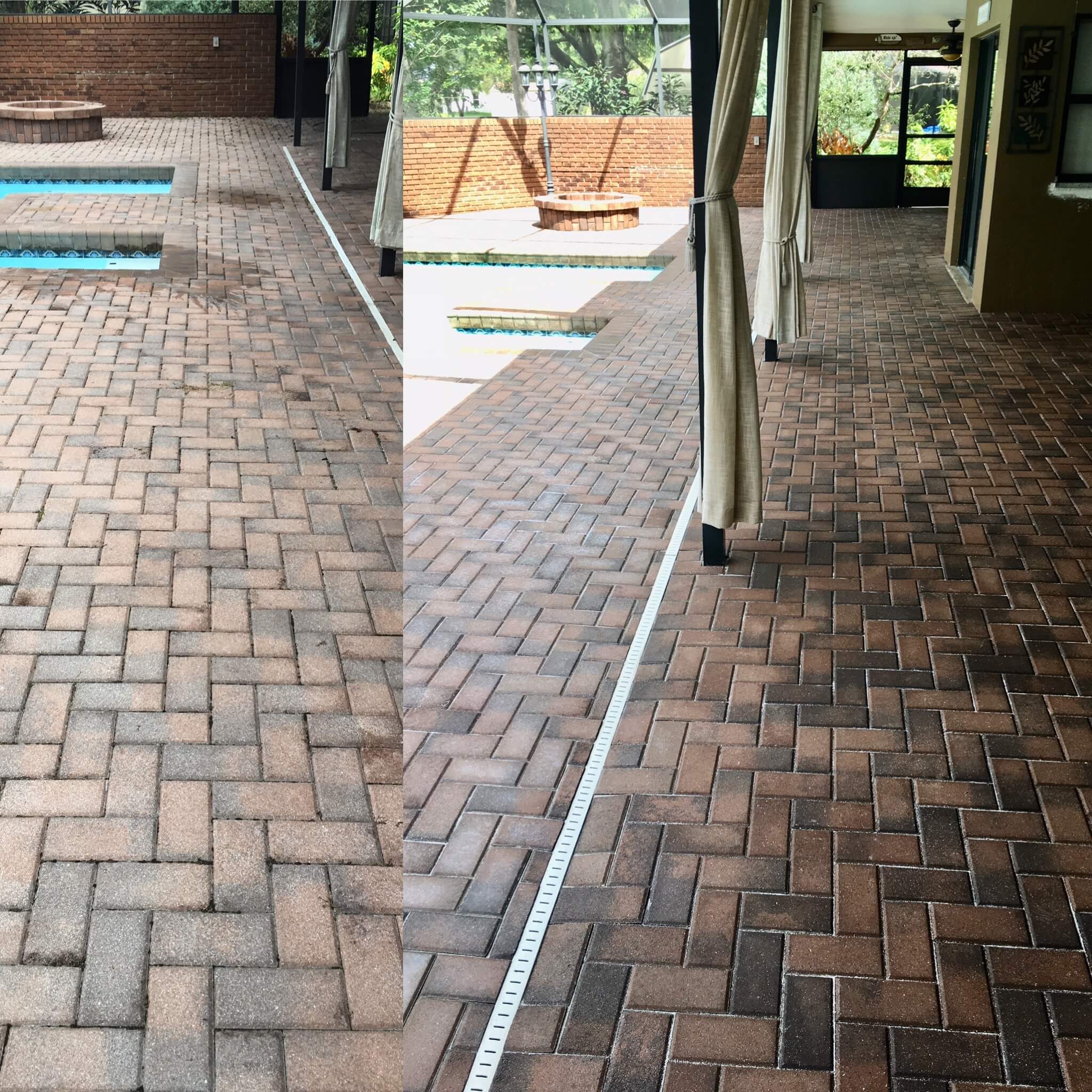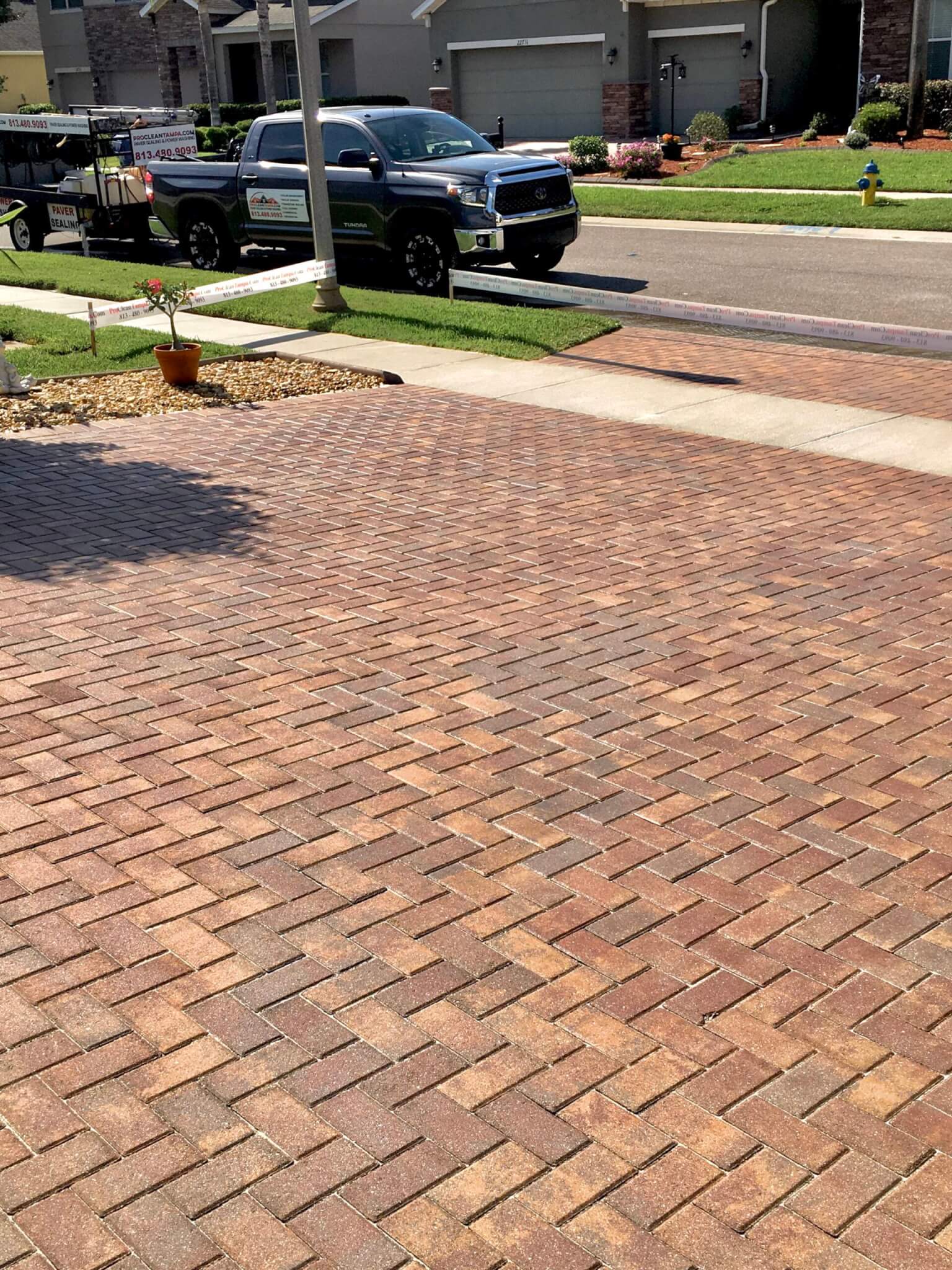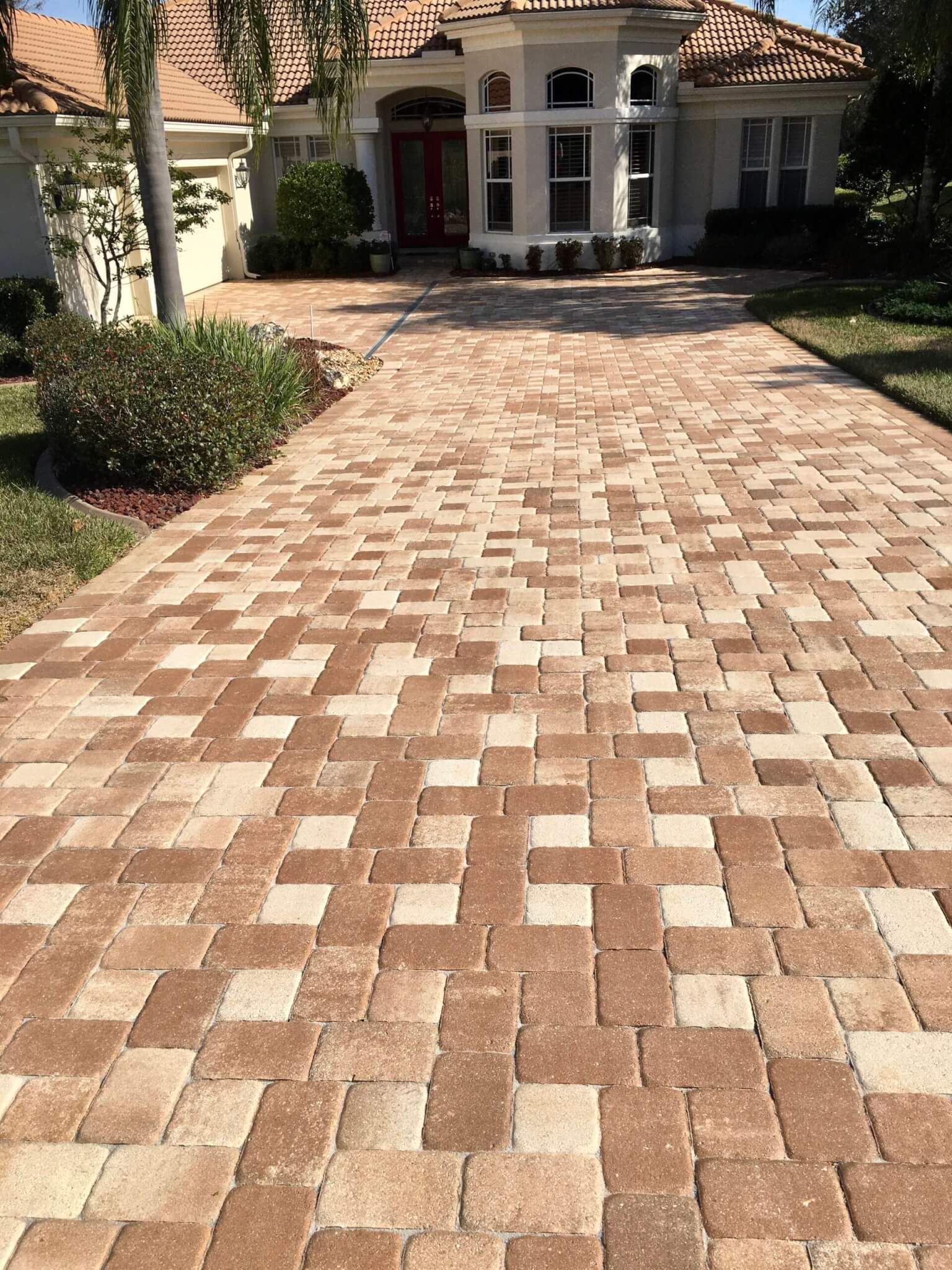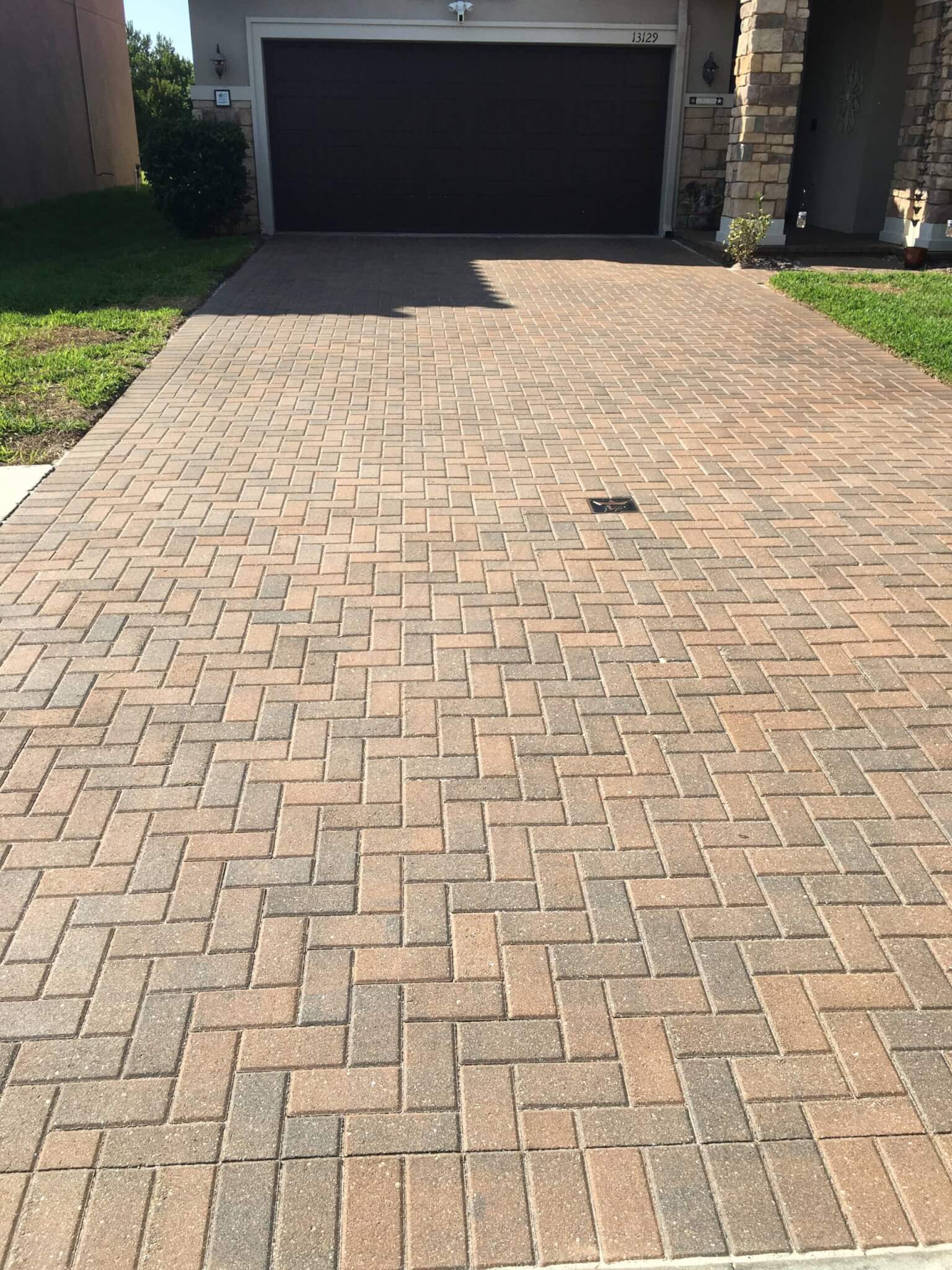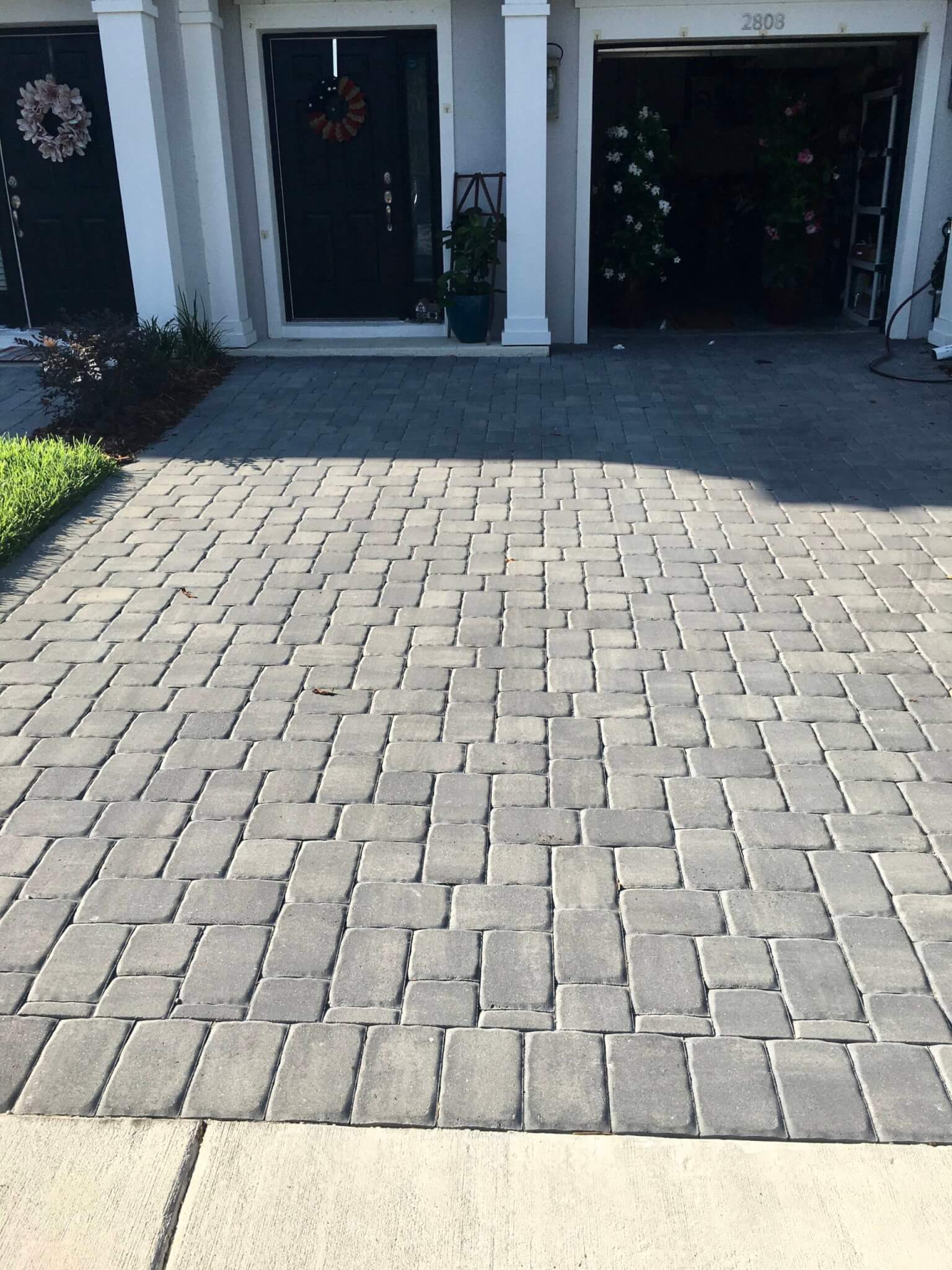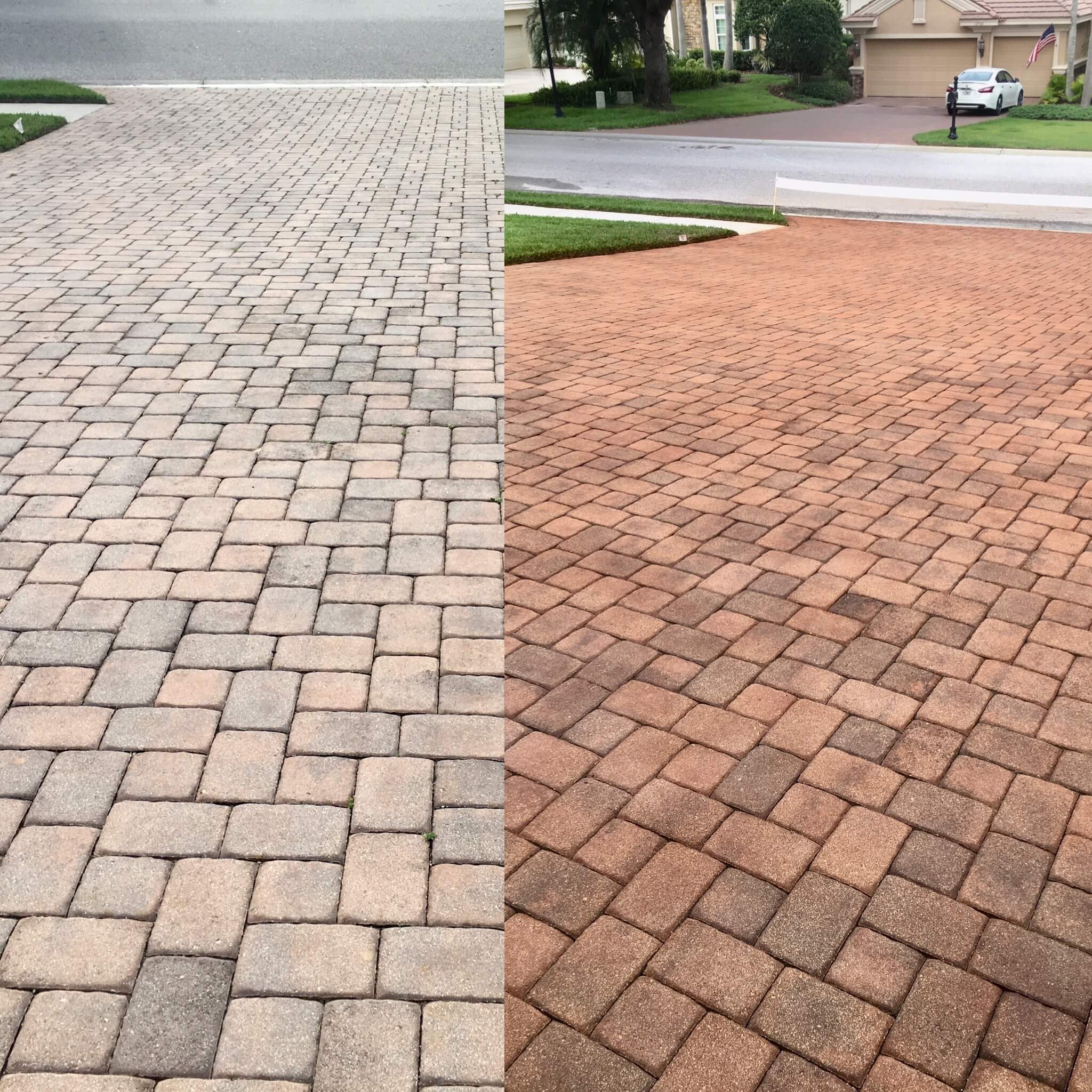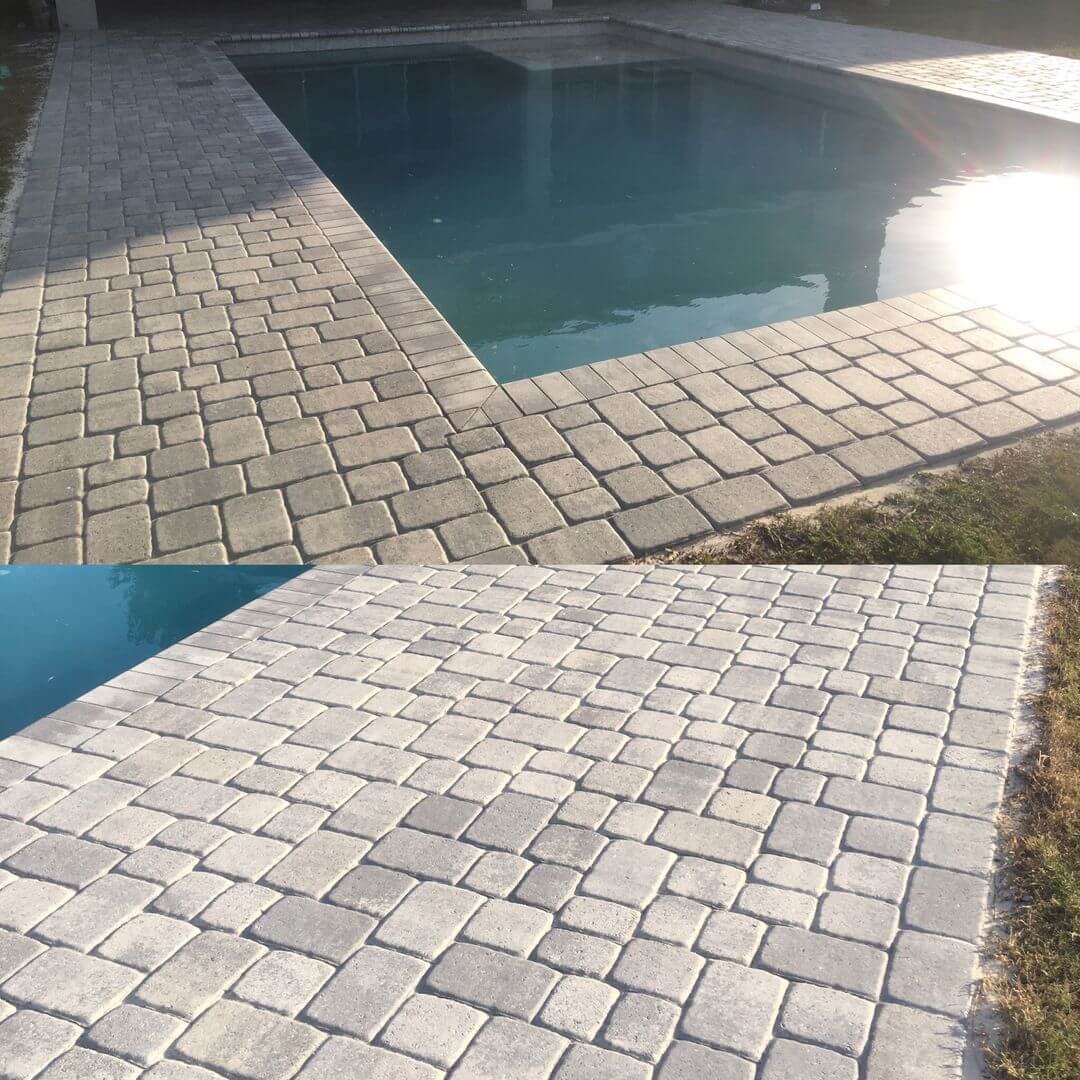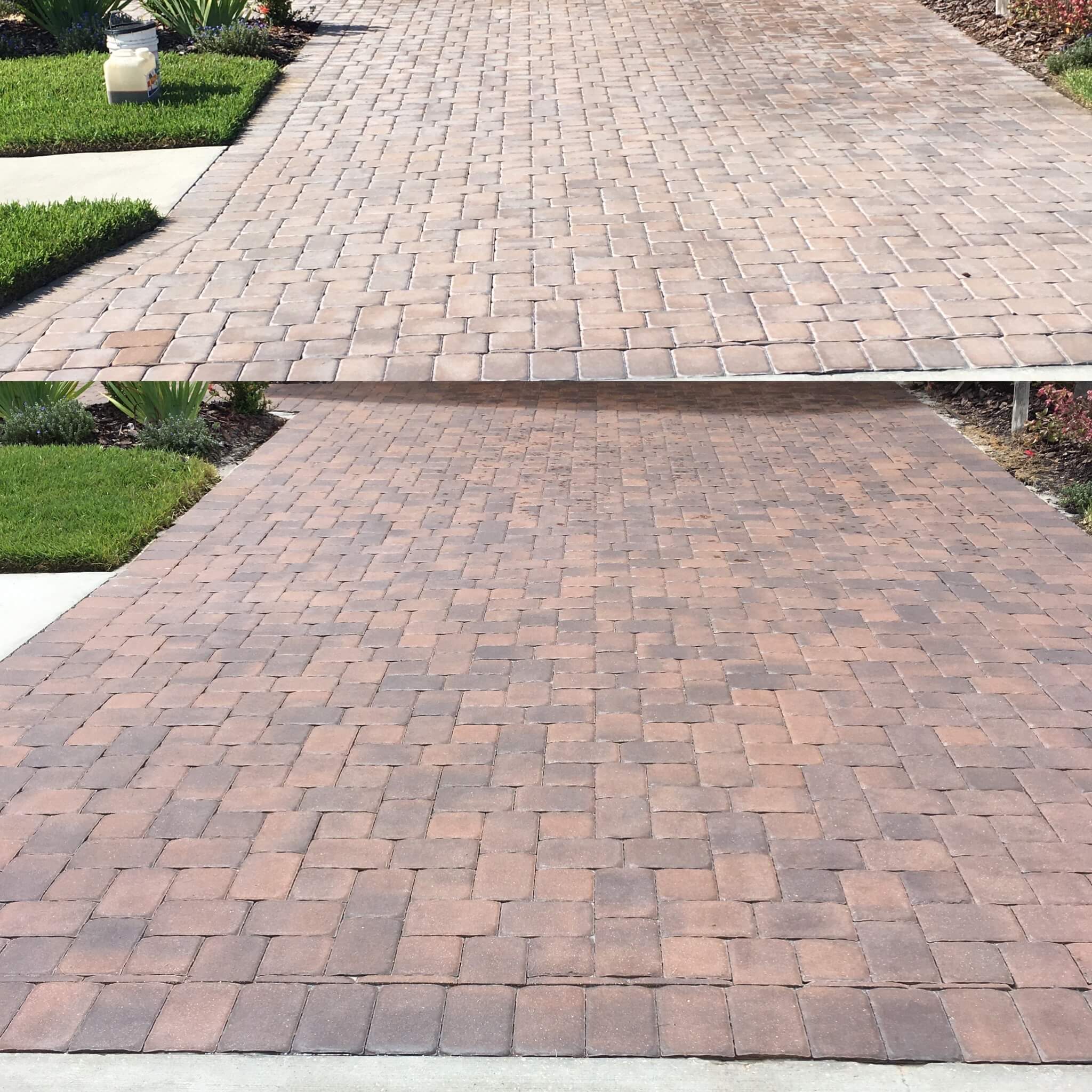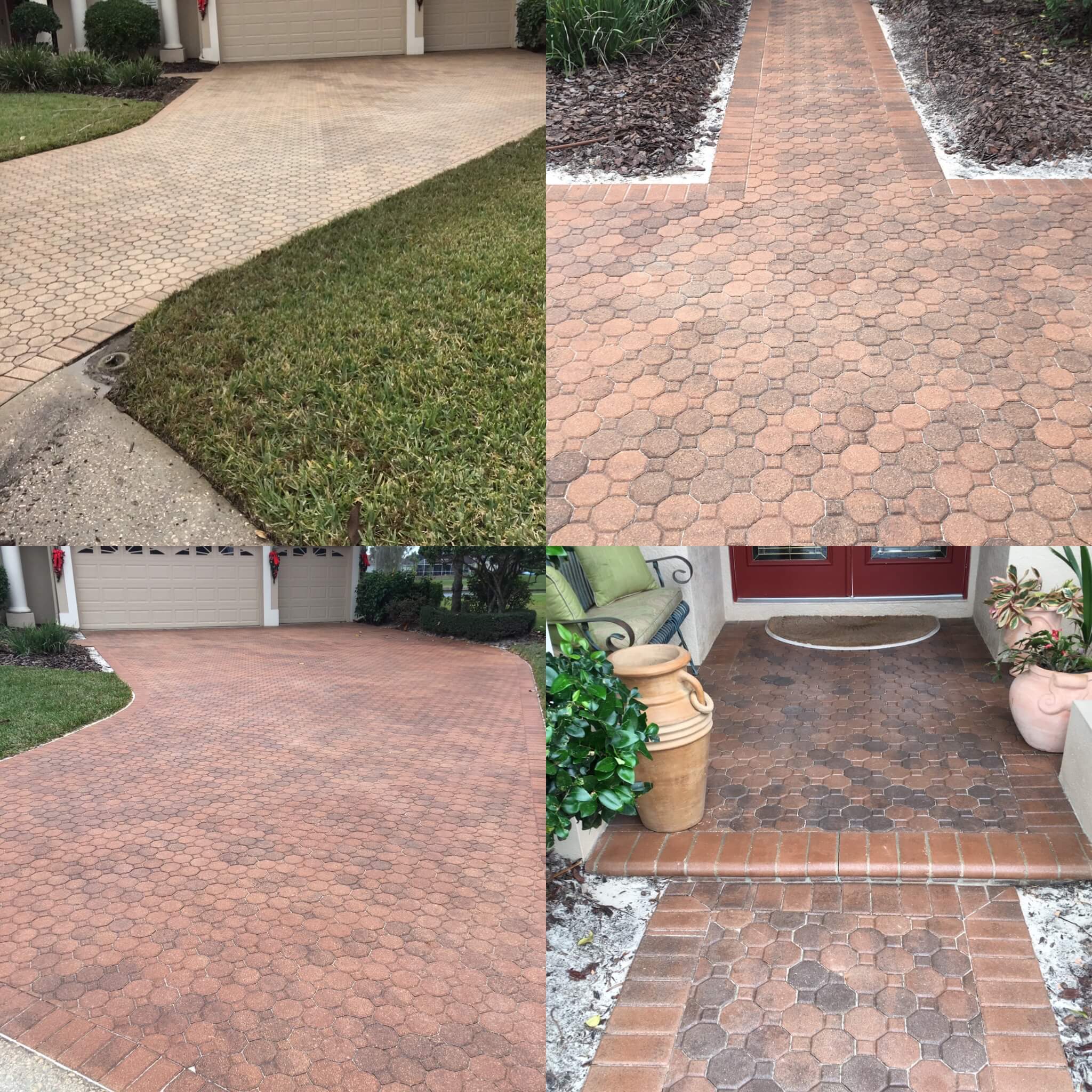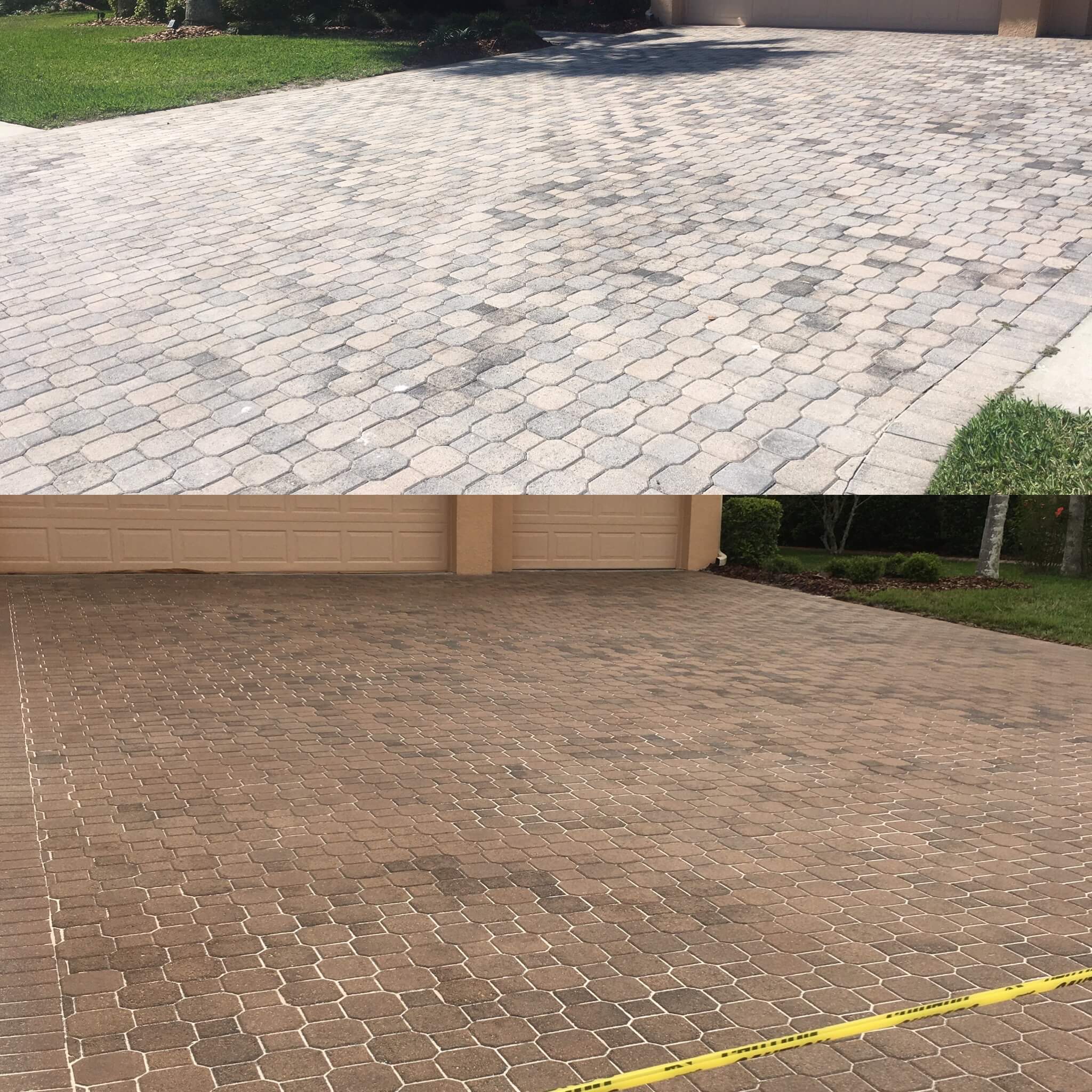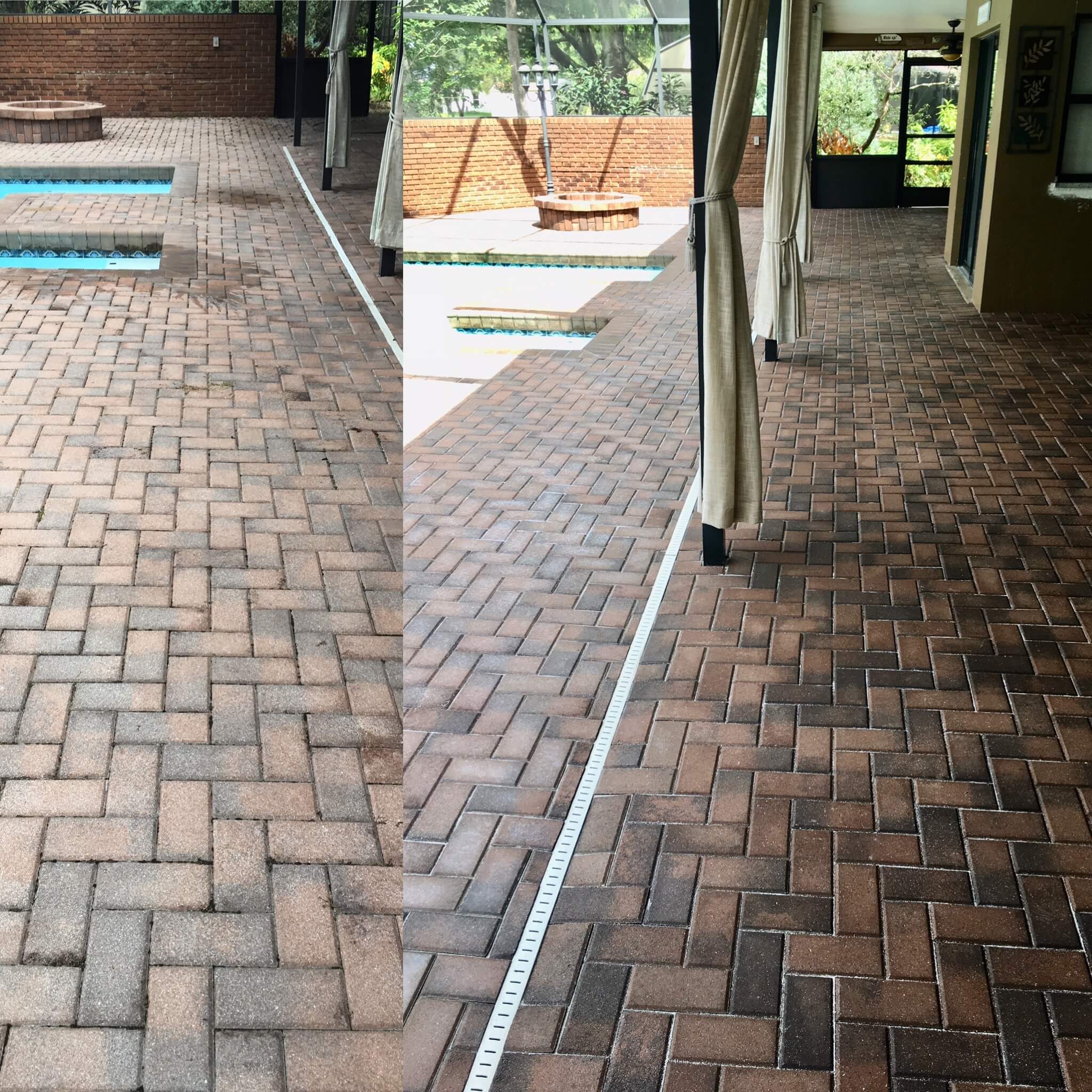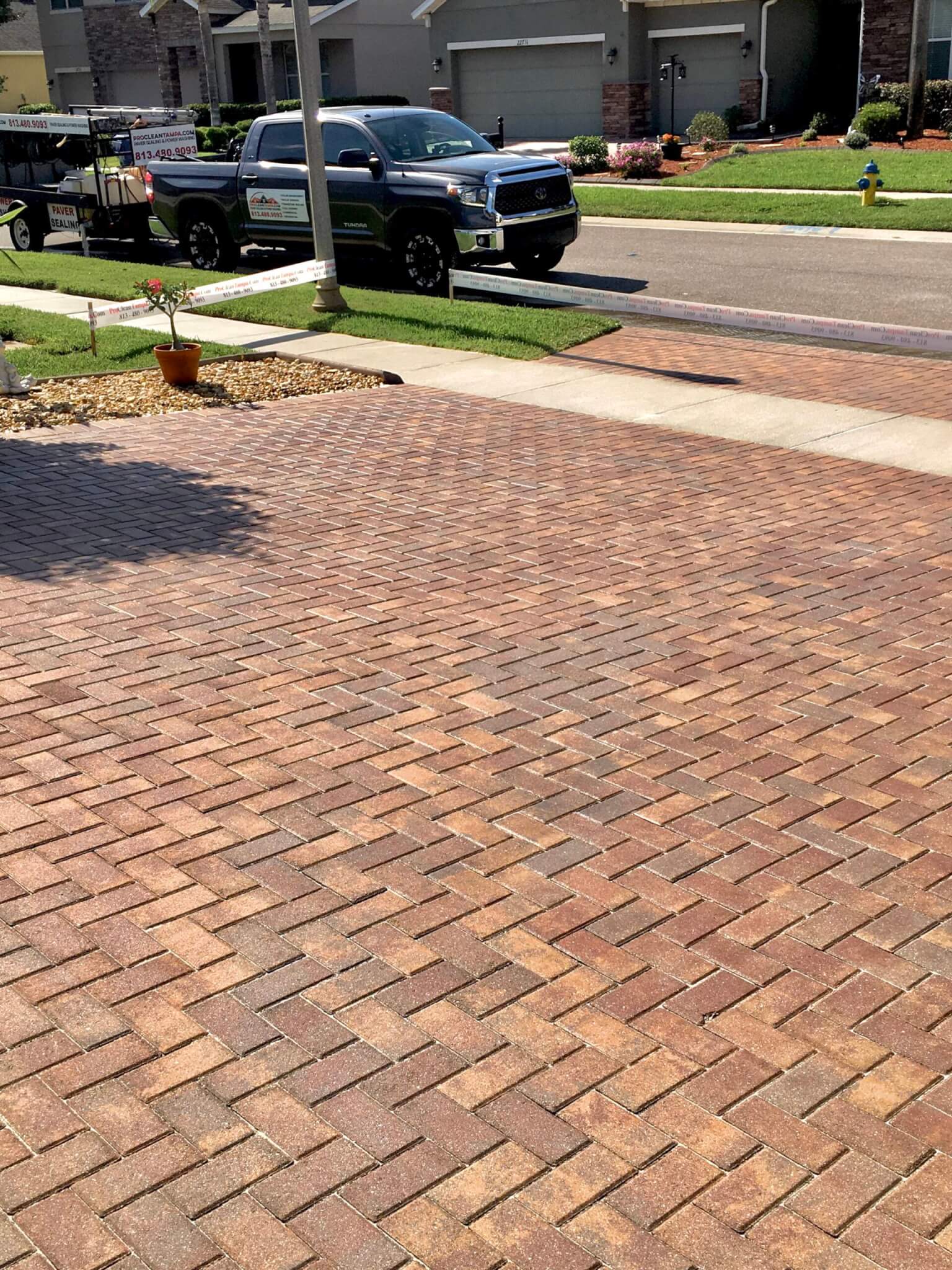 When Results Matter
There are so many options available on the market today. It can get confusing when it comes to all the different types of sealers on the market and the companies that claim to be professionals offering paver cleaning and sealing services. When getting the best results matters, it's important you hire a company that stands behind every job and has the experience, expertise and equipment to properly handle every project, every time.
Understand this is not a job to let your local handyman attempt. The Jack of All Trades and the do it yourself homeowner are not qualified to guarantee excellent results. There is so much nuance to doing the job 100% on top of the fact that "Messing Up" can cost thousands of dollars to "Fix".
What seems like a straightforward maintenance project can end up costing many thousands more than necessary. When untrained, inexperienced individuals watch a few youtube videos and fire up the old power washer…. Look Out!
Many of our the local exterior cleaning companies unfortunately do not have the experience or proper equipment, let alone the training and knowledge to handle each type of project we face.  No need to worry,  Paver Seal Tampa can handle the job and you can be certain it will look fantastic.
Paver Sealing Right, The First Time
Every technician has extensive training and certifications to be able to knowledgeably handle every situation and guarantee the best results with your paver sealing project.
At Paver Seal Tampa, we utilize the very best commercial equipment and industrial cleaning and sealing products to ensure your project runs smoothly and comes out fantastic every time.
PLUS we take pride in each job and encourage our techs to go the extra mile every job, every time!
Paver Sealing with Ure-Seal is a one day process! Typically cleaning, re-sanding and sealing (Three Coats) can be completed in one day.
Absolutely! Every Job is covered with a 3 year warranty when Ure-Seal is used. For more information about our warranty, please visit our warranty information page.
Contact Our Office Today
We welcome the opportunity to exceed your expectations. Contact our office today for a FREE quote!
Phone: (813) 480-9093
Email:paversealtampa@gmail.com